Lusin Mayfair a brand new restaurant inspired by Armenian and the Levant cuisine has just opened its doors to the London public.
If you've been to Saudia Arabia you may have visited one of the three Lusin restaurants there. It is part of Mira Foods group, set up by a hospitality entrepreneur Dr Mazen Amulgbel.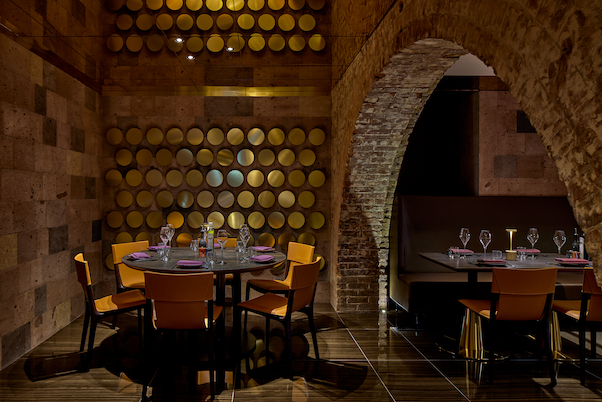 The gastronomic concept of Lusin was born during Dr Mazen Amulgbel's travels to Armenia and Lebanon. The name means "moon" in Armenian.
Lusin menu combines authentic Armenian dishes, which were created by Madam Anahid Doniguian, author of the Armenian Cookbook "Yepelou Arveste".
With a special touch from 2 Michelin-star chef Marcel Ravin who added innovative dishes such as the Famous Cherry Kebab made from spiced kebab skewers, charcoaled and then covered with the signature home-made cherry sauce.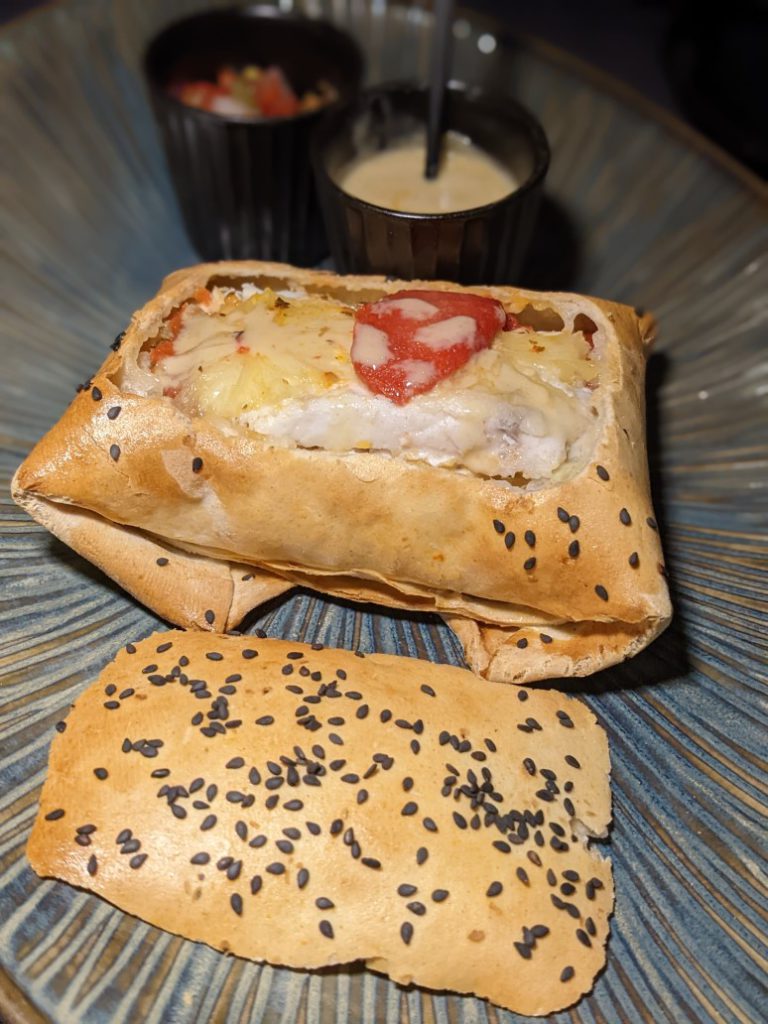 The sour cherries are sourced from Armenia, after picking season around June-July of every year, and cooked adding sweetness to elaborate a distinctive mixture of sweet, sour and salty flavour.
Lusin has a large menu but despite that each dish is unique and different prepared with attention to detail that will please a food connoisseur.
On this occasion I disagree with the saying: less is more, some countries just have a rich culture resulting in wide variety of traditional dishes. We tried quite a few of them and I can happily say each one of them was tasteful.
My personal favourites were the eggplant rolls stuffed with walnut and cream cheese served with pomegranate. The meaty texture of eggplants complimented creamy and soft filling well, while pomegranate added a lovely tart touch.
My guest and I also enjoyed Lusin Kebbeh, which is minced lamb patties mixed with herbs, pomegranate, nuts and bulgah. The kebbeh had a somewhat grainy texture with a very unique combination of flavours.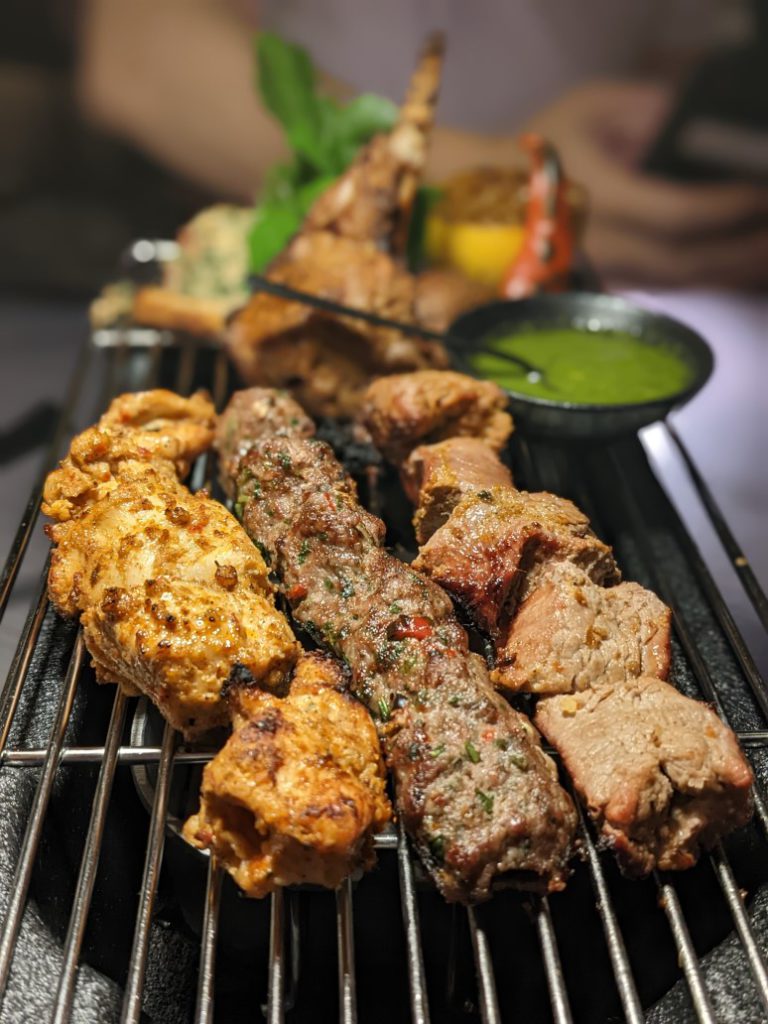 We also shared a mixed grill, which was perfectly tender and the lavash-baked seabass. Lavash is a simple flat bread traditionally prepared on flat stones. It is a mixture of flours from a variety of grains with added water.
Lavash is a pretty big deal in Armenia so much so that it is UNESCO-listed. It is the cornerstone of Armenian cuisine. The dinner tables are rarely without lavash, this humble dish is so important that it was placed on UNESCO's list of Intangible Cultural Heritage in 2014.
Now back to the seabass dish that my guest and I enjoyed finished off promptly. It had a slightly different form of lavash, it was golden and crispy wrapped around fish filler. It was like a pie filled with flaky fish fillet, sundried tomato and fennel. It came with a pale green pistachio vierge and bonne ferme sauce.
My guest used it generously on the lavash and the fish as it softens the lavash but it is really a personal preference. I felt the dish was really quite delicious without the sauce already. The fish had a bit of fennel infused stock inside the pie adding an appealing contrast to the crispy lavash shell.
We completed our dine with a selection of three desserts a lemon tart, which was a classical zesty filled tart with a sweet meringue. Pomegranate éclair and honey cake.
Pomegranate éclair had a bit of a deconstructed design to it with the cream being on top of the choux dough. The eclair lacked the rich cream I am used to in eclairs. It was very light and not sweet at all. The pomegranate cream or even sauce I should say, it seems wrong to call it cream since it was so light had pomegranate tart notes to it.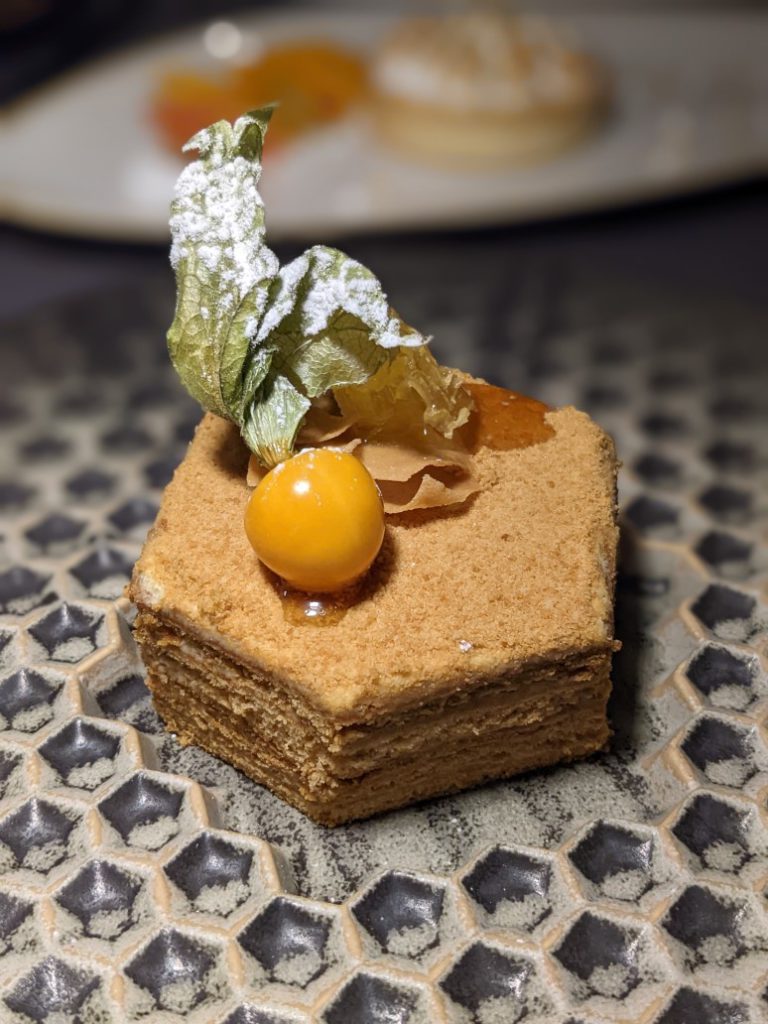 It was an interesting take on an éclair, diners who don't enjoy particularly sweet and creamy desserts should go for the eclair.
My personal favourite was honey cake. There are two honey cake types in the pastry world- the European one with thick cream layers and sponge like consistency and the Russian or eastern European style. Where the cake is more dense with thin firmer layers of biscuit and equally thin layers of cream.
It is also less sweet with richer honey aroma and slightly sour cream because it is prepared with sour cream. It's a compact flavour and should be enjoyed with coffee. The honey cake at Lusin was the latter version.
Lusin also does a good cocktails selection with fresh twists on classics. The drinks menu has been crafted by mixologist Giancarlo Mancino, official beverage and bar consultant for the Rosewood Hotels worldwide. Armenian wines are also available to try.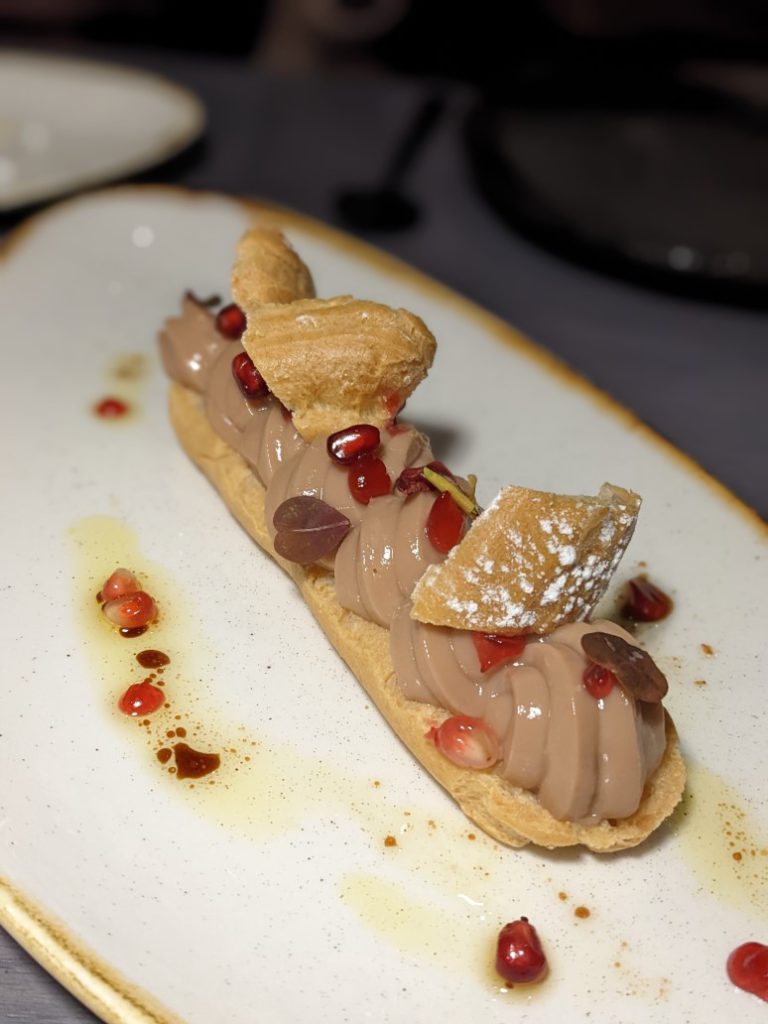 Lusin menu entails dishes such as mixed meat grills and hummus to honey cake, borsh eggplant rolls and borak. It also puts a Mayfair spin on some such as wagyu beef hummus and lobster manti.
Armenian food is very unique because of the long history and its location. The capital Yerevan is one of the world's oldest inhabited cities, built 29 years before Rome. Armenia is also a former Soviet republic. The country sits in the mountainous Caucasus region straddling Asia and Europe.
Thus it is one of the most unique cuisines featuring both eastern European and Mediterranean ingredients and dishes together.
The venue itself is stunning with great attention to detail for high end pieces from Cutipol dark chrome cutlery to three outstanding pillars that have hand-made carvings resembling Armenian Khachkar, symbols and signs from the "Tree of Life" to the "Eternity" symbol.
The interior has been designed by Arch. Maram Seddiq. The walls feature Armenian Tuff Stone that is originally sourced from Armenian Mountains, in four colours: Pink, Artic Violet, Black, and Anti-Tobacco.
If you haven't tried Armenian food now is the perfect time to do it. It is a perfect spot without stepping too far out of the comfort and into the unknown zone. You get to see and experience somewhat similar Middle Eastern flavour but with a unique twist.
Lusin Mayfair, 16 Hay Hill, London W1J 8NY
Interior photos Edmund Dabney