Chloe gets very yo-ho-ho with some rum drinks, that's drinks made with rum not dodgy drinks just to be clear. One masterclass later and she's all set to go to sea.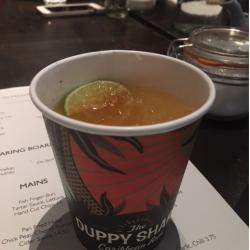 This summer, we were invited to The Fellow by Young's Pub, Geronimo Inns, and The Duppy Share, named after the dark Caribbean spirits and ghosts that are known to swoop between the islands stealing the best share of the best share of the rum, to a rum masterclass and, very excitingly, to create our very own bottle of rum.
We started off the evening with a delicious punch made with The Duppy Share – a Dark and Stormy which ginger beer and a dash of crisp lime which introduced us to the rum perfectly, as well as a selection of tasty canapes showcasing the tasty food on offer at The Fellow.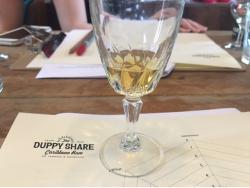 We then swiftly moved onto the main event – rum tasting. Split into teams of four we first tried a Jamaican Rum and were introduced to the'perfect rum spider diagram' where could map out the different tastes and colours of each rum we tried. The Jamaican Rum was mid-sweet, quite light and very tasty.
Then came the Barbados Rum – slightly darker than the Jamaican with a more buttery finish, this also listed quite high on the list of my favourites.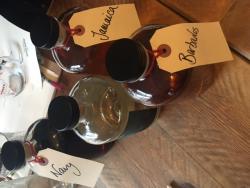 A Navy Rum next – not a favourite with me. The incredibly dark colour, paired with the low molasses, high-perceived alcohol level (how alcoholic you think it tastes), and the low tropical fruit flavouring combined clearly did not agree with my taste buds.
Next one from Trinidad and Tobago. This was by favour my favourite of the four. A sweet rum, almost completely transparent in colouring with low oakiness and quite a smooth honey/buttery finish made this rum very drinkable indeed.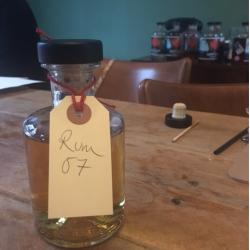 Finally, we sampled The Duppy Share itself – a mid-dark 3-year-old blend of Barbadian and Jamaican rum. With strong tropical fruit presence, and quite a low sweetness, this rum was a delicious tipple enjoyed on its own as well as in the welcome punch.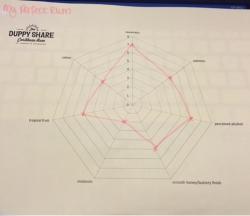 After trying all the variations, we then had the chance to plot our ideal rum on the rum spider diagram, and make our own by mixing our favourite rums. My favourite was the Trinidad and Tobago, which featured quite heavily in my blend, with a splash of The Duppy Share, Jamaican and Barbados for good luck. As it was such a mixture of different rums, I decided to name it my Rum 57.
The Duppy Share was a fantastic rum to try, especially for someone like myself who is very much on the entry level with rums.
Luckily, The Duppy Share are running a selection of masterclasses throughout the summer so you can try too: Trafalgar Arms, Tooting (20th August). Burger Shack and Bar, Wimbledon (26th July), Leman Street Tavern, Whitechapel (3rd August), Duke on the Green, Parsons Green (4th August), and The Canonbury, Islington (25th August).