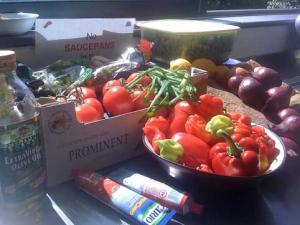 Several heathens scoffed when I mentioned I was doing a Nigerian cookery course. Without divulging their names or asinine comments, they said that African food was a disappointment. It's certainly not well-known in the UK with none of the enduring popularity that pan-Asian food has enjoyed. And while I've tasted gorgeous Ethiopian, Eritrean and Ghanaian, I hadn't yet sampled much from that oil-producing, jittery west African vibe.
So on hearing about this beginners' day-long course, I hotfooted it, via sweltering tube, to cool and leafy Hampstead. The African cookery school Akhaya is run by Jenny, a young woman of Nigerian descent just setting up business. We were welcomed with fresh mint and rooibos tea as well as charming applause the second we individually stepped through the doors. The kitchen at the institute was spotless and well-equipped and how the sun did blaze through the windows.
Of the three delightful women taking the course, it later transpired that two, like fairy imps, would glide over and whisk the filthy mixers or bowls from your hands, washing them before you could blink. They took the pain out of cooking. I could happily leave a trail of syrupy spoons and burnt pans wherever I went. Bliss.
After an introduction to some African spices, we donned plastic gloves and aprons – though these were a little stifling in the heat of the kitchen, still sunny, still sparkling. First we made delicious gritty salty fritters – or akara – from black-eyed beans. You can buy black-eyed beans without the eyes, Jenny tells us, because the eyes leave a film in the dish. All the better to see you with. Or you can rub, rub, rub them off, a laborious process. We soaked the beans while making the Nigerian jollof rice.
'There's lots of debate about where jollof rice comes from,' says Jenny, 'Gambia? Ghana? Nigeria?' In our case, it was the latter meaning we used easy cook rather than basmati rice. Jollof is a one-pot dish, very easy to make and is cooked like a tomato stew. We whizzed the tin tomatoes, onions and garlic with rosemary, garlic, ginger and paprika, making the stew base – which can be used with other dishes – then added the washed rice, covered it with foil below the pan lid and steam-cooked for around half an hour on a very low heat.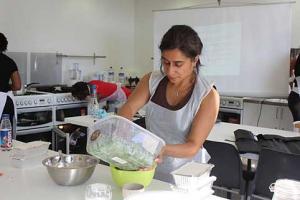 This was when we took a short break with another refreshing rooibos while my neighbour showed me the recipe apps on her phone. Next, we started on the egusi (crushed melon seeds) and spinach soup which we made by frying stewing beef with egusi spices, tomato, scotch bonnet peppers and a stringy shrub called okazi. The spinach and crushed melon seeds came later, amid much tasting with wooden spoons and scorched tongues.
The egusi soup was like nothing I'd tasted before, a reversal of what most western palates are used to. While it took a while to acquire this taste, I now love it. The sweetness of the tomato was balanced by the nutty ground egusi, the bitterness of the okazi and the fishiness of ground shrimp added later – an intriguing combination of flavours.While all this was going on, Jenny had helped us make some suya chicken legs and had given us some pounded yam – which has an elastic texture – to eat with the stew. All the while the three fairies handed out samples of the dishes to taste so we knew what we were aiming for.
We got to take the food home which was five boxes worth for me – I eked this giant feast out for three days. My only criticism is the course was slightly rushed, they'd packed so much in, but more than worth it in terms of what you learn and can take away. All the ingredients are included and the team do a great job of measuring ingredients and providing the tools. This, of course, makes the experience as pleasant as possible. So let me find those heathens that scoffed, let me at 'em.
AKARA (BEAN FRITTERS) RECIPE
Akaras are fritters made from a puree of black-eyed beans. They are found throughout West Africa and can exist in variations that include banana and chick pea. Traditionally, akaras are served with a maize porridge but can be eaten on their own or as a starter.
Preparation time:
Overnight, then 20 mins
Cooking time:
5 mins (Makes at least 10 – 15 fritters)
Ingredients:
1. 100g black eye beans, or peeled beans
2. 1 small onion
3. ½ teaspoon of Akhaya© scotch bonnet chilli flakes (optional)
4. Salt and pepper, to taste
5. Sunflower Oil
6. 150ml water
Preparation:
Soak beans in a bowl with at least double the amount of water. Leave overnight or for at least 4 hours. Once beans have softened, rub beans between palms of hands to remove skins. Fill bowl with water, so that skins rise to the top, pour water away with skins into a sieve and continue peeling process until no skins remain.
Method:
1. Roughly chop onion and add to blender with peeled beans and chilli.
2. Add water and blend until beans form a smooth paste.
3. Transfer paste to bowl and add salt and pepper to taste.
4. Fry spoonfuls of paste in hot sunflower oil until golden brown.
5. Remove with a slotted spoon and drain on kitchen paper.
6. Enjoy!