In a boost both to British suppliers and diners' taste buds, Marriott Hotels are trialling a scheme of sourcing local produce for use in their hotel restaurants. Alex Ozga gets the inside track.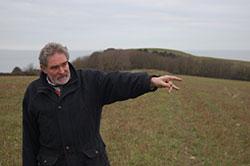 One of the best parts of being a food writer is getting an inside look at what goes on behind the scenes of restaurants. You gain a deeper appreciation of the trade and those involved in it when you see not just the plate of food that's delivered to your table, but the hard work and planning that made it possible.
I was therefore happy to be invited to spend a day and a night at the Marriott Hotel in Cardiff, where Marriott are trialling a scheme of sourcing the vast majority of the hotel restaurant's produce locally. At Zest, the restaurant in the Cardiff Marriott, 80% of the produce is sourced within a 60-mile radius, and the scheme is also being implemented at Heathcliff's Restaurant in the York Marriott. If successful, it will be expanded to more hotel restaurants across the country.
It is both unusual and impressive to see a behemoth of the global hospitality industry go to such lengths to make its restaurants utilise local and seasonal produce, as well as giving a chance to local growers and farmers to sell their produce on a larger scale.
A Welsh safari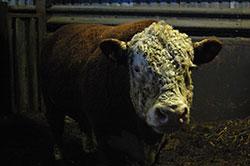 To help with the food at Zest in Cardiff, Marriott enlisted the help of Hugh Fearnley-Whittingstall's River Cottage, who helped to find suitable local suppliers and craft the menu. One of those suppliers was the multiple award-wining Slade Farm, which supplies Zest's meat. To give us a behind-the-scenes glimpse, we were given a tour around the farm both on foot and as part of the Slade Farm Safari – which turned out to be an enormous trailer attached to the back of a tractor.
If anyone thought they'd be seeing lions and zebras they'd be mistaken, though we did get to see the infamous Welsh sleep in their natural habitat, as well as cows and piglets. Having the intricacies of farming explained by owner Peter Davies was a humbling experience; never would I have appreciated how bafflingly complex an occupation farming is, from the infinite variables which affect the quality of the meat to the atmospheric effects of having a farm on the coast. As Slade Farm adheres to organic practices, every care is taken towards ensuring that the activities are fully sustainable and make as small a mark on the environment as possible.
Can food writers actually cook?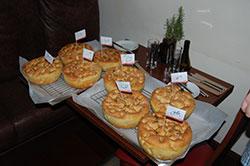 After an interesting and enlightening tour, we returned to the hotel and were led around the restaurant kitchen. It's my first time in one and it's certainly a whole different kettle of fish to a home kitchen. There is no warm, homely atmosphere here; it's all white tiles and stainless steel, like an NHS hospital but with higher hygiene standards.
This turns out not just to be an innocent kitchen tour, however, for it transpires that we are to take part in a step-by-step cookalong with Executive Chef Anthony Barnes to weed out the food writers who can actually cook from the ones that merely cram other people's food down their gullet and then write about it.
We will be making a focaccia, which will be rated out of ten to find who has made the best. I feel confident as I make the dough up and then knead it, with the River Cottage boys giving me smiles and thumbs up (in relation to the focaccia, one assumes).
The dough is left to prove, then finished off and baked by Barnes, and we tuck in. It's been ages since I've eaten focaccia, and I've forgotten just how delicious such a simple bread can be, with a subtle aroma of rosemary and a great hit of flavour every time your tongue glides over a piece of rock salt. Much to my satisfaction I come either first or second in the competition. Anna O'Shea, Director of Sales at the Cardiff Marriott has the same initials and some friendly competitive glances are exchanged.
Dinner at Zest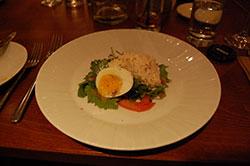 Finally, we sit down for a meal at Zest, to see just how good the meat from Slade Farm and produce from the other local suppliers tastes, and what Barnes's team can make of it. Zest is pleasant and low-lit. It's a warm, family friendly-atmosphere; it's not trying to be anything it isn't and it's a place in which you'd be happy to spend a good few hours.
A parsley salad with local crab and soft boiled Ratford Farm egg is okay but not entirely to my taste, as the sharpness of the flat leaf parsley and capers rather washes out the delicate taste of the crab meat. Chris Griffin, Head of Education at River Cottage tells me that the starter has divided opinions; some love it, some don't. I can't help feel I'd have been better off having the pan fried mackerel with beetroot relish, horseradish and celeriac remoulade that O'Shea has a couple of seats down, which looks and smells delicious.
My main, however, of Slade Farm pork with potato and swede rosti, chestnut mushroom sauce and honey glazed rainbow carrots, ticked all the right boxes. Dining at a wide variety of establishments has taught me that I prefer hearty, delicious food to sparse and snooty haute cuisine, and to that end, this is heaven.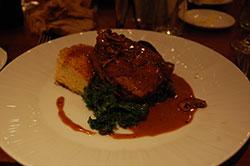 The pork is marinated for ten hours and cooked for eight, and is moist, flaky and delicious. The chestnut mushroom sauce is a perfect accompaniment. It's served on a bed of kale salad, which makes me doubly happy as it's one of my favourite greens and provides fantastic texture. The honey glazed rainbow carrots are wonderfully fresh and sweet, and cooked perfectly, and the swede rosti complements it all splendidly.
The presentation strikes a balance between making a humble meat-and-two-veg dish look delicious and appetising, without veering into pretence. There are no try-hard attempts here, nothing to complicate matters. Just solid, hearty food. It's the kind of stuff I like to eat, and if you're of the same bent then you'll love the food at Zest. I'd like to be able to give similar praise to the desserts, though after the starter and main none of us could manage one.
With such a heavy emphasis on local produce, the menu at Zest changes constantly. A dish could be on the menu for just a couple of days before it's replaced with something else. It's good to see and serves as a reminder that despite globalisation and the advent of mass-transit for ingredients, the best stuff is still to be found locally and is fresh, rather than frozen and driven hundreds of miles to reach the restaurant kitchen that will eventually use it.
It's difficult to object to what Marriott have done. Heavy use of local, in-season produce has given rise to both fantastic food and a boost to local British farmers and producers. That it is a large, corporate hotel chain putting this much effort into its restaurants makes it all the more commendable. Here's to the scheme being rolled out nationwide.