If there's two things that people love all year round and even more so at times of celebration, it's chocolate and cheese. Both rich, creamy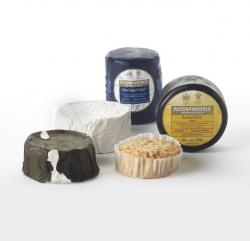 and yet never to be enjoyed together.
While decidedly less stinky, chocolate seems to get the most coverage when it comes to big events throughout the year. Cheese might get a look in at Christmas time, but nothing like the attention chocolate gets, and then you've got Valentine's Day, Mother's Day and the chocolatiest time of all, Easter.
Poor old cheese. It's time for chocolate to share some of the limelight with it's creamy cousin. Paxton and Whitfield, share this view, and have introduced an Easter selection for those who want to champion the pleasures of cheese when chocolate has become redundant. Instead of bringing yet more chocolate eggs and bunnies on your rounds with the relatives, bring cheese. Your imaginative unorthodoxy will be a welcome addition in any home.
To make this break from traditional as painless as possible, Paxton and Whitfield have boxed up a selection of cheeses to help you celebrate Easter in a more savoury fashion.
The Easter Selection, at £40 brings together three of freshest flavours this spring including a Cornish blue, Duckett's Caerphilly and a Trefle to be enjoyed with malted crackers, a juicy fig ball and just a tiny bit of chocolate in the form of Chococo's raspberry pavlova clusters.
The Little Box of Treats at £30.00, features five little gems from the cheese world. They are all small yet perfectly formed, individually wrapped cheeses of different milks and styles including the aptly named fig-leaf wrapped goat's cheese Eve, a Petit Gaugry, Hundred Dram Cheddar of the West Country, a Mini Waxed Stilton and Ireland's offering to the soft cheese movement, the delicate Cooleeney. To bring out the flavour of the more mature cheeses and lift the calibre of this gift box even higher, Paxton and Whitfield have also thrown in a Wiltshire Fruit Loaf.
Buy Easter gift boxes online at www.paxtonandwhitfield.co.uk