To celebrate the launch of Peroni Nastro Azzurro 0.0%, a brand-new alcohol-free beer at 00:00am on 19th April 2022, a 0.0% inspired Italian trattoria will open its doors in London, ready to welcome guests and take them on an elevated culinary journey. The name? '0.0steria Peroni'.
The new drink is the result of a new de-alcoholisation process (done at their Rome based brewery) which ensures the taste of the beer is maintained while the alcohol is completely removed.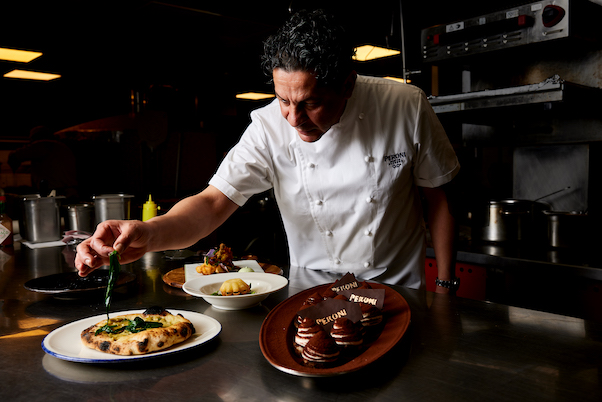 We were invited to the preview event hosted by chef Francesco Mazzei at his Islington venue Radici. Around a banqueting table set for a gastronomic adventure, we were amongst the first people in the UK to experience new Peroni Nastro Azzurro 0.0% – and figured out pretty quickly that zero alcohol doesn't mean zero taste, proceeding to enjoy a very entertaining evening with chef Mazzei the perfect host. 
Every one of the five courses on the menu had a 'zero', and on some dishes we were invited to guess what the zero was and also what the ingredients used were because, it turns out, the entire menu is completely vegan.
Francesco told us he embraced the challenge and went through a few iterations in order to achieve the flavours of the delicious dishes we tried.
The first start was a 'zero service' cicchetti: in fact, we had to go to the elegant Radici pass and plate it ourselves.
And didn't we do a good job? The rustic wooden tray had an array of delicately fried seasonal vegetables (Francesco proudly uses locally sourced, British produce in most of his dishes, with the occasional Italian staple).
The vegan watercress mayo – which yours truly loved piping onto the plate – was a perfect fresh and tart accompaniment.
The next dish was a 'zero cutlery' option: we used our hands to tear slices of soft, pillowy 'pinsa' smothered in a creamy roasted garlic and wild garlic topping as well as a generous shaving of fresh truffle.
What followed was one of the best dishes of the night, in our view. 'Zero colour' pasta, and no – no squid ink used for a (black) dish of black tortellini with wild mushroom filling and a black sauce.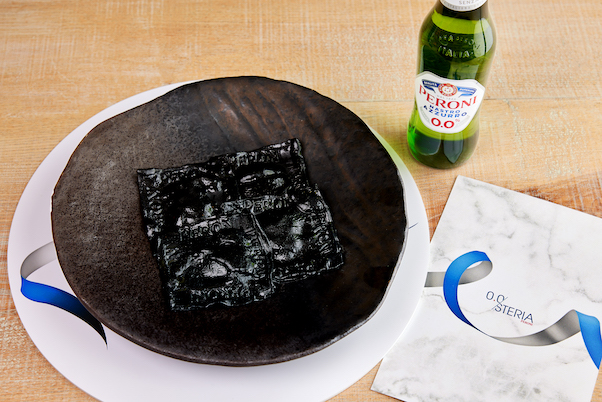 No cheese, no cream, no butter, this pasta dish was light and packed with flavour (and quite the challenge to photograph). Look closely and you might just be able to see the Peroni imprint on the edges of the ravioli.
The 'zero sight' dish that followed was served to blindfolded diners: using touch and smell and taste, we tried to guess what we were eating.
It was revealed by Francesco soon after, telling us that the dish was inspired by famous Sicilian 'pasta alla norma', except that he had to use vegan ricotta which, in all honesty, cannot possibly match the salty umami of its dairy counterpart. The aubergines and tiny pepper flecks supplied the Mediterranean background flavours.
We were pretty full by now but couldn't wait to try 'zero sugar' tiramisu, because let alone zero sugar, how can you make a tiramisu without eggs or mascarpone?
Unbelievably, Mazzei has succeeded in the challenge, producing a dessert that was deeply satisfying and spot on on texture, incredibly creamy, sweet and with an Amaretto note.
So what about the beer? We drank plenty on the night as each dish within the '0.0steria Peroni' menu has been engineered to complement its taste.
It is a very pleasant drink, lighter than its alcoholic sibling, with less bitter notes, but definitely makes for a great pairing to the flavoursome food we enjoyed.
To those who will manage to get themselves a ticket (which is free by the way) '0.0steria Peroni' will bring an experience with true Italian passion and flair from start to finish, with both the beer and the food showcasing the very best of Italian craftsmanship.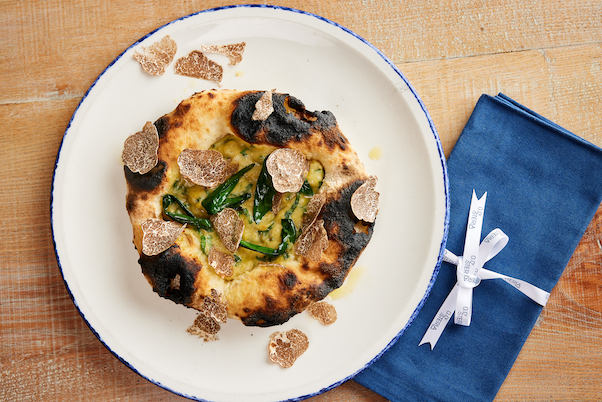 The tickets so far released have all been snapped up by now but more will be released on monday on Eventbrite so keep an eye out.
Tickets are available across five booking slots on Tuesday 19th April, midnight, 12pm, 2:30pm, 6:30pm and 8:45pm.
The 0.0steria Peroni menu has been designed to be inclusive, with each dish being created to cater for a vegan diet. Diners should declare any additional allergies when booking and upon arrival.
0.0steria Peroni
Date: Thursday 19th April 2022
Time: From 00:00am
Price: £0.00
Location: 0.0steria Peroni at Radici, 30 Almeida St, Islington, London N1 1AD.
Website: Eventbrite