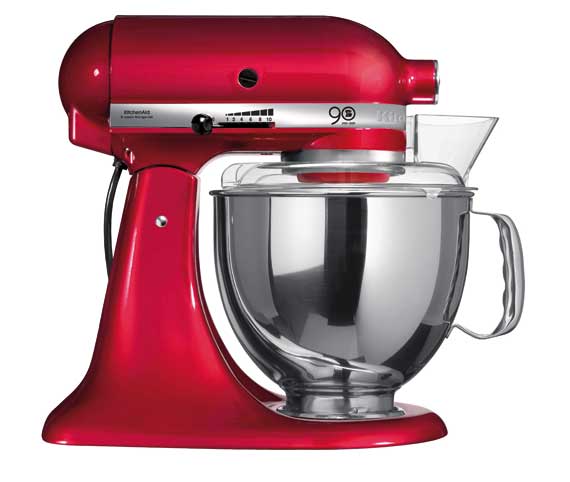 I've always wanted a KitchenAid. Yes I know it's 'only' a food mixer, but that's like saying an Aston Martin is just a car. I mean just look at the KitchenAid! How can you not want to own and show off something like that? Not want to run your hand over its supple curves, to stroke its handsome little beater, to gaze at your hunky reflection in its lovely shiny bowl?
The KitchenAid® Artisan Stand Mixer, to give its official title, is now ninety years old. Throughout that time, the iconic design hasn't changed much. In fact many of the attachments made for it all those years ago will still fit one bought today. The machine is still hand-assembled from die cast metal parts, the powerful motor still runs at its highest speeds without making the mixer so much as wobble, and the unique 'planetary' action of the beater – the beater rotates in one direction, while turning on its own axis in the opposite direction – still produces perfect results. And did I mention that it looks gorgeous? Oh yes, I did.
To celebrate ninety years of award-winning design and workmanship, KitchenAid have produced KitchenAid90, a collection of recipes and a history of the iconic brand. The only snag is you have to buy a mixer to get one; it's not available in the shops. All the more reason to get a KitchenAid though as it's a very fine book indeed.
Of course the recipes are designed to be prepared with a KitchenAid – it doesn't just beat and mix of course, you can plug in different beaters, a vegetable slicer, a mincer, a device to make purees, a pasta roller and cutter, a ravioli maker, a juicer, a grain mill and even an ice cream freeze bowl Even so all the recipes can be made fairly easily without a KitchenAid, just a bit slower. We've got a few for you here.
And the recipes are pretty cool. I loved the idea of a foam of hummus, even though it needs one of those cheffy N20 foam makers and a cauliflower and Stilton soufflé isn't impossible by any means. Dried cherry, pistachio and Szechwan pepper biscotti sound wonderful as does a lemon and Earl Grey Chiffon cake. Overall there are ideas for every occasion – soups, salads, and starters, mid week meals, fancy dinners and weekend specials.
And those kind people at KitchenAid whilst baulking at my attempt to blag one, dammit, have sent us these great recipes from the book.