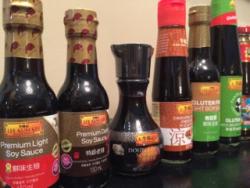 Unlike 3000-year-old soy sauce, oyster sauce was a late Victorian Hong Kong invention, and an accidental one. Charlie Lee, head of Lee Kum Kee sauces and condiments , was on a rare visit to the UK last week telling his story.
Lee's restaurateur granddad happened upon it one day while boiling up oysters. He forgot the pot and on return, discovered a rich, gooey umami sauce that became the meaty condiment so popular globally in Chinese cuisine.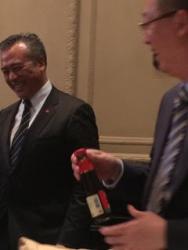 Descendent Mr Lee hosted an 8-course lunch at the opulent Grand Imperial Chinese restaurant to show a group of writers how his sauces can be used.
My favourites included the premium XO sauce, a bird's nest of highly pungent and delicious scallop shreds, which was steamed with a Scottish scallop on mung bean vermicelli.
Being a chilli oil aficionado, I loved the shrimpy Chiu Chow chilli oil which I used as a dipping sauce for the dim sum. Dim sum, I didn't realise, means "touch heart" and the excellent prawn roll with a crispy tofu skin made a good attempt.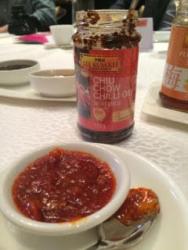 The infamous oyster sauce and a sesame oil were also used to good effect in sauteed diced Scotch beef fillet with Shitaki and Shimeji mushrooms in black truffle sauce. The various meat brothinesses were pulled up by the sauce.
 Linda, vice president of the company who seemed completely uncorporate and sweet, told me how I could make dreaded broccoli more appealing by flash frying it in oyster sauce with garlic. What other unpalatable vegetables I wonder can I do this with? I reckon most yukky situations are remedied with a dose of good chilli oil.