To some, there is nothing worse than braving London's West End on a balmy summer evening. To me, there is nothing better. London itself is so unfriendly to heat; there's never enough air conditioning, never enough ice in your cocktail, never enough shade. Though we Brits love complaining about rained-off summers and long, cold winters, when the sun does shine it is a fact: Summer in London is wonderful, but only if you know where to look.
Dark, Light, Fruity
If you've never been to Belgo Covent Garden before, it's almost entirely underground and fully air conditioned. There is an extensive drinks menu boasting dozens of beers, with everything from fruity, gluten free to dark and strong, so there is no shortage of amber nectar with which to whet your whistle. Of course, the real star of the show is the mellow and malty Pauwel Kwak, which is served in a glass that looks less like a receptacle and more like something used on Breaking Bad. At the Covent Garden branch there is a beer sommelier of sorts who can help match certain beers to compliment dishes on the menu, so if you or a friend is something of a connoisseur there are lots of interesting beers available, quite reasonably priced, too.
Enter Lobzilla
Belgo's 15th annual Lobsterfest promises to be the most fish friendly celebration of crustations ever. This year, in partnership with a Devon Hatchery, Belgo are running a "buy one, set one free" scheme this year to preserve and protect lobsters in a year which has seen prices soar  thanks to a prolonged and cold winter. Of the three dishes on offer (all created under the watchful eye of executive chef Muir Pickern) it is the Lobzilla dish that is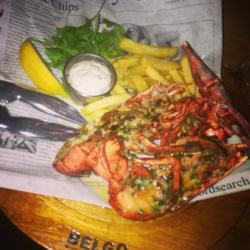 really the most exciting. For £19.95, you get a whole grilled lobster, served with frites, aioli dip and salad; for even the most stony faced foodie, there really isn't anything better than being presented with a whole lobster, red and delicious on a bed of newspaper. Also on offer is the lobster cocktail, prawn's classier cousin, which has a generous amount of meat and is complemented nicely by crisp baby gem lettuce, sugar snaps, carrots, chicory and topped with a zingy, sharp lemon dressing. For those looking to enjoy something a little more crisp and summery, the whole lobster salad is basically the grilled lobster sans frites, served with the same zesty lemon dressing as the cocktail and just as delicious. In terms of price, each dish is affordable and enjoyable for what it is, and the service is prompt and helpful, particularly when it comes to choosing what beer is best.
If you fancy it, Lobsterfest is running from 4th July-31st August