Terrible errors, forgetting about food and losing the culinary plot are avoidable with a good kitchen timer, so we test the Oregon Scientific TW 331 clock and timer combined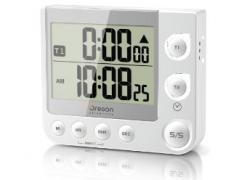 'How long has that meat been in?"When did we put the pasta on?"I hope you like your eggs hard boiled?' are all questions to be avoided in the kitchen. Sure some chefs have an almost X-Men ability to remember what's going on all around but most of us rely on a glance at our watch or wall clock and all too frequently it ends badly.
Oregon Scientific have a reassuring name, and here I speak from experience, a reassuring reliability. Our bedroom clock by them lasted over ten years and would have gone on forever if we hadn't dropped it once too many times and finally broken the screen.
This kitchen timer has some very neat features in its small package. The main one is two screens which means, obviously, you can time two different things at the same, err, time. You can also switch one screen to being a standard clock, which is useful.
The screens can count up like a stopwatch or be set to alert on a countdown. That alert has two volume settings and a mute setting leaving just a bright green LED  (one for each screen) to flash when operating, faster when one minute is left and then flash red on ending. An interesting feature is that when a countdown reaches zero it starts to count up, so you can see how many minutes have passed, should you have been away from the kitchen when the alarm went off and now in a panic.
Also the timer has a memory to save you re-entering a favourite cooking time, like for boiled eggs. Very useful.
Some countdown timers are limited on hours but this can be set to up to almost100 hours, which may not be used all that often but it's good to know it's there. The LCD display is large and clear and the buttons firm and easy to use even with mucky hands.
There are three ways of positioning the clock; it has a fold out stand, a hook for hanging it up and is magnetised behind, although we found the magnets were a little weak when it was placed on our fridge as it slowly slid down. Barer metal got a far better result for adhesion.
Chunkily made in white, well thought through and very easy to use, this is one very good timer for around £19.99 or less. It'll be your pal in the kitchen for a very long time.