Plum + Spilt Milk Kings Cross St Pancras Station, Pancras Rd, Great Northern Hotel,  N1C 4TB www.plumandspiltmilk.com
Chocoholics unite, because National Chocolate Week is just around the corner and pudding extremists Gü Puds and Mark Sargeant's Plum + Spilt Milk have combined their culinary skills to create a three course menu masterclass on cooking with chocolate.
I've never met anyone who's as passionate about creating desserts as Gü's mastermind Head Chef Fred Ponnavoy is. Shop bought puddings used to be the taboo of the dinner table, but when a brand like Gü comes along and manages to create impeccable offerings like that key lime pie, which, incidentally, took multiple visits to ginger and sugar farmers all over the world to craft, it's time to let go of your prejudices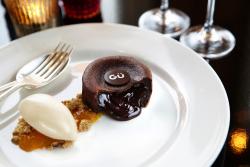 and simply indulge. Anyone who can successfully sell souffles to even that most discerning of home chef markets – the French – is the perfect partner to join Mark Sargeant and his Executive Chef Mike Denman in creating the ultimate chocolate menu.
And there's chocolate by the bucket load in this offering, with the sweet treat appearing in every course, from the welcoming cocktail – a mind-bendingly potent muddle of sour plums and sticky chocolate liqueur – to the finale, a restaurant ready version of Gü's latest pudding creation: Melting Middles home bake fondants.
National Chocolate Week Menu (13-19th October)
Pan-fried scallops, white chocolate and cauliflower puree, sherry vinegar caramel
Loin of venison, cocoa nib roast squash, bitter chocolate and red wine sauce
Gü Head Chef Fred Ponnavoy's ultimate White Chocolate & Tonka Bean Melting Middle with caramelised white chocolate ice cream and mandarin confit
Nestled inside the seething transport hub of King's Cross Station, Plum + Spilt Milk has all the ambiance of a first class carriage, with muted airforce blue walls, acres of white leather banquettes rippling across the polished wooden floor and a ceiling dripping with bell-like lights.
The feast began with some of Plum & Spilt milk's menu staples, which perfectly demonstrated the restaurant's predilection for simple yet effortlessly punchy flavours. Dorset crab croquettes came piping hot alongside deliciously piquant curried mayonnaise and trumpet shaped fresh radishes that were served with their leaves on so you could grab them and dunk into tiny pots of blush pink taramasalata.
But then it was time to get down to business and see just how many ways you can get chocolate into what are, generally, savoury courses. On paper the starter read too sweet, too sickly and too overpoweringly dessert-esque, but in practice this dish is a masterclass in delicately balanced flavours and textures. The plump, perfectly seared scallops were meltingly soft and rich; the sherry vinegar caramel drenched samphire gave just enough acidic bite to slice the sugary edge off the creamy cauliflower puree. One course down and I'd already reached my sugar high.
The main arrived much later, which was lucky really, as another quick injection of sugar at that point might have tipped me over the edge into diabetes. When it did arrive, the loin was nicely cooked, the squash had a naturally charred caramel edge to it and the teeny tiny, almost pickled wild mushrooms that were hidden in the dish added an unexpected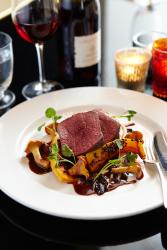 dimension to what was, essentially a very sweet main. The real star here though was the sauce: a rich, thick, heady and impossibly silky concoction that poured like melted chocolate and was cut with a glug of spicy red wine that gave it enough depth of flavour to carry the dish from good to excellent.
The final course in this chocolate extravaganza was a symphony of sugar: a fondant with an oozing, black as night bitter chocolate centre served with a bitter-sweet marmalade smear of mandarin confit that made the whole thing taste like an elevated form of Jaffa Cake and a silky smooth quenelle of white chocolate ice cream.  
Sometimes mistakes happen in professional kitchens and just occasionally those little errors can create something spectacular, which was exactly the case with the caramelised white chocolate ice cream. Gü Head Chef Fred Ponnavoy explained that the concept came to life when a chef at the famous Ecole de Grande Chocolat was melting white chocolate in a warm oven and forgot about it; the result in the morning was a toffee-like, fudgey mess that just so happened to be the most heavenly addition to ice cream that I have ever encountered.
As a celebration of the versatility of chocolate, an example of the staunch british gastronomy that underpins Plum + Split Milk's food ethos and an insight into the impeccable pudding work Gü do on a daily basis, this chocolate week menu is right on track (sorry, couldn't resist the lure of at least one train pun).
National Chocolate Week runs from 13-19th October
Gü's Melting Middles are on sale now in all major supermarkets and come in two flavours: Salted Caramel and White Chocolate.