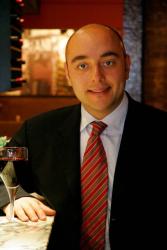 When I walked into Ponti's Italian Kitchen in John Princes Street, Oxford Circus, I was pleasantly surprised; it really wasn't what I was expecting. It has a good fresh modern feel to it, lots of booth seating, and a lively atmosphere. There are two Ponti's Italian Kitchens, the other in Duke Street, again just off Oxford Street.
I had to admit up-front on meeting Stefano, who is both owner and CEO of the Ponti's group, that I had never eaten in a Ponti's restaurant before. I explained that my previous impression of this chain of restaurants was that they were canteen-like and not somewhere that I would necessarily want to spend time having a meal with friends. Of course Stefano understood exactly where I was coming. He said that the transformation of these two Italian Kitchen branches in central London marked the start of his vision for the future of Ponti's.
To give a little background to where they are now, Stefano gave me a brief history to the family business. His father Pino effectively started the group when in 1963 he opened a cafe in Elizabeth Street, Belgravia. The food that he served there in the early days was broadly standard English, like full English breakfasts and hearty lunches. But, over time he started to introduce his customers to the delights of authentic Italian cuisine. Pastas dishes, Italian coffees and more were introduced to the menus, and it was this development shaped the future of Ponti's. Over time the group grew with coffee/sandwich bars that were largely self-service, and from 2001 to 2007 they enjoyed a great deal of success with their Caffe Italia outlets at airports and shopping centre. But over time they began to see that customers wanted more than counter service and they started to experience cover decline. It was in 2007 that things began to change, the former CEO of Ponti's resigned his position and Stefano, as owner by then, also took on the CEO role for the 18-strong Ponti's/Caffe Italia group.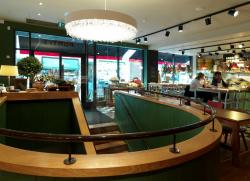 In taking over the management of the chains, Stafano's vision was, and still is, the transformation of each of the 18 outlets. Aside from the two Italian Kitchens which are entirely table service, Stefano intends over the next 18 to 24 months to convert the other 16 Ponti's and Caffe Italia outlets to counter order and table service, doing away with self service. He said that while there will be some corporate branding throughout, he intends that each will have its own individuality. His focus for Ponti's of the future is to deliver an excellent level of service, offering customers authentic Italian cooking with provincial artisan produce from the Emilia Romagna region of Italy, where his family hail from. Emilia Romagna is the home of some fine Italian produce that most of us are familiar with, including prosciutto (Parma Ham), Parmigiano Reggiano, Balsamic Vinegar (Modena), Tortellini Piacentini and more. These artisan products feature on the Ponti's menu, and the group import them direct for use at their restaurants and outlets. Stafano is rightly proud of the quality of the produce and their flavours.
As we sat chatting, we shared some dishes that Stefano selected from the menu to give me a taste of the range of food that can found on Ponti's menus. We worked our way through a board of antipasti filled with salumi; (prosciutto mortadella, coppa, balsamic glazed parmigiano reggiano salad leaves, olives and vine ripened tomatoes) and the vegetarian version with buffalo mozzarella and a char grilled salad of Mediterranean vegetables amongst other things. Each of these antipasti dishes had great fresh, lively flavours; I've certainly not tasted better anywhere else. We moved on to taste the tortellini from Piacenza which was, without question, a delightful dish of fine pasta sheets wrapped around an excellent spinach and ricotta filling, then finished off with some drizzled butter, sage and grated parmigiano. We then shared an insalata Tonno, a medium rare tuna steak resting on a bed of rocket leaves and served with some black olive tapenade. The steak was perfectly seared, soft and tender with a good red/pink centre and was well matched with its accompaniments. All this washed down with a good fruity Il Poggiarello Pinot Nero, Quattro Valli, from the Emilia Romagna region, served in a Scodella, a china bowl, which is the traditional way of drinking the wines of the region and dates back to the 18th century.
Stefano was keen for me to taste some of the desserts and of course, I was happy to do so. The Torta di Amaretti, a vanilla cheesecake that had a good crunchy base and a topping of crushed Amaretti biscuits was lovely. And the Torre di Meringa, a take on Eaton mess, was equally good with its layers of good fruity berry compote and cream with a berry coulis streaked meringue sat on top. A very good cappuccino finished off the meal perfectly.
All in all this was a great lunch, in bright comfortable modern surroundings and in good company; the 2 hours I was there flew by. The dishes I tasted had vibrant flavours and overall, I was favourably impressed. The question is; would I see myself going to a new style Ponti's as a destination restaurant with friends? And the answer would be no. But there is a niche for them, Stafano sees Ponti's as middle range restaurants serving authentic Italian cuisine and if the remaining 16 outlets in the group are up to, or close to, the standard of the Italian Kitchen, I see no reason why his vision shouldn't be realised. If you were to ask me would I go back to a re-styled Ponti's the answer would be yes. I could quite see Ponti's as a place I would have lunch, or maybe a meal before (or indeed after) seeing a film or going to the theatre. The food is very good.
I wish Stefano the best of luck in making his vision a reality.