Primrose Bakery, Covent Garden www.primrosebakery.org.uk 42 Tavistock Street, London WC2E 7PB
Tel: 020 7836 3638

I've never fancied myself in a vintage floral frock. My perennial scowl would savage any attempt at sartorial twee. So the current fascination with all things cupcake has left me pretty ambivalent. It was for that very reason I pounced on the opportunity to sample a few at the newly launched Primrose Bakery in Covent Garden – I baulk at coughing up £2 a pop for something that once cost 5p at a Blue Peter bring&buy sale
Wrapped across a corner in London's theatre land, the place is certainly gorgeous. Lemon yellow paint and striped awnings pull in girly types in red lipstick and fringe cuts. A Barbara Woodhouse headscarf wouldn't go amiss here. And ain't it all dainty? The Primrose Bakery – the original one being in Primrose Hill and frequented by celebs such as Jude Law – is very 1950s tea parlour.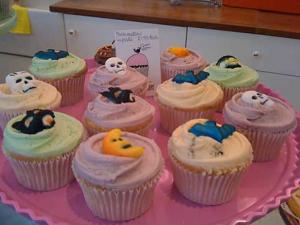 There's a quaint milkshake maker, neon signage and mint green on the walls. The cupcake display is colourful and inventive. Loads of little bobbly heads bearing frosted rose petals or orange turbans, coffee beans in buttercream icing or coconut snow. When we arrived, two stylised women dressed as 1950s housewives were flicking through a catalogue of wedding cakes, which Primrose Bakery bake and take. They also deliver cupcakes to nearby theatre events, offices and parties with toppings tailored to the recipient.
We hovered over the counter admiring the zany swirls and Halloween faces before plumping for carrot cake with a delicate orange and cream cheese icing, cookies and cream, lemon cupcake and a fun marshmallow confection. We also tried minicupcakes with coconut, rose and mocha icings and a lovely banana fairycake. The sponges are mainly vanilla and chocolate but can variously be coffee or whatever the bakery downstairs chooses that day. The beauty – and most of the flavour – is most definitely in the icing as a couple of the sponges had sadly dried out a bit. But despite the sweetness of sitting pretty in pink eating cake, we both felt very sugar rushed after a while although we had halved and shared. We downed good cappuccinos to halt the swoon but the cupcake fever raged on. Now that's all I can possibly write about cupcakes right now and I've decided that it's all a lifestyle thing – if this is your lifestyle, the Primrose Bakery seems a wonderful place to hang out. But call me killjoy, I don't see what all this fuss is about. Hyperbolic cupcakes! I stepped out of elevenses and back into my grungy life of French Fancies.