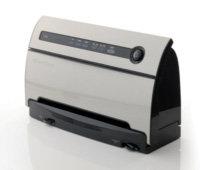 Nature abhors a vacuum, so we are told, but vacuum can be good. It made Mr Hoover and Mr Dyson a few quid and it has of other uses than just dust busting. Removing the air from around cooked or fresh foods and liquids like soups extends their fridge storage time enormously. In the freezer it prevents freezer burn while dry goods can be vacpacked and put in the larder where they'll maintain their aroma and freshness almost forever.
And it isn't just about storage; chefs vacpack cuts of meat with herbs and flavourings before placing them in a sous vide system to cook. And by using a specialised container meats can be marinaded in ten minutes rather than overnight.
So when FoodSaver sent us over a FoodSaver model to try we were excited. The box comes with three small bags, two large bags, a three meter roll to make custom size bags, a bottle stopper and a medium sized container, all of which is quite a bit to be going on with. They also sent some extra containers and the marinader box too.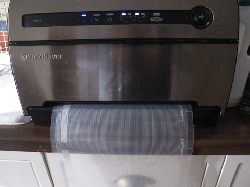 Unpacked the machine looks smart in chrome and its vertical design makes it less of a worktop space stealer than we feared. So far so impressive.
The first thing was to work out the system. Like so many devices these days in order to save on the printing costs, the instructions are only pictorial. We puzzled over them a bit, but eventually understood.
Simply use the pre made bags or pull of a length of bag material from the in built roll, cut it with the guillotine and then insert into the slot. The machine whirs and clicks and heat seals that end. Add your things to be vacced to the bag, insert the open end back into machine and it vacs out all the air and then seals. Job done very easily.
The system is clever in that it senses when the air is all out and doesn't carry on sucking to the point of crushing what's inside. It also has settings for liquids as well as solids and a neat drip tray to catch the unavoidable liquids that can be sucked out of the bag just before it's sealed. A dial of LEDs gives colourful feedback on progress and there is also a non vac setting for delicate foods, one which simply seals the bag for good, safe storage.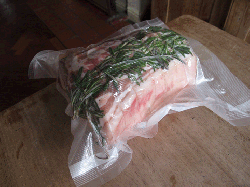 The point to be made is that saving food is saving money. Foodsaver's own research* showed that  around  £139 million worth of foodacross the country goes into the bin a year, mostly due to avoidable reasons like over-shopping  and cooking too much, as well as forgetting what you've pushed to the back of the fridge until it's too late.
Foodsaver's special containers for the fridge or larder have lids with non-return valves; you pull out the vacuum hose from the machine and plug it into the lid. The machine then vacs out the air and you're all set to safely store. When it's time to get the food out, the valve on the top releases the vacuum and the box can be opened. Great for preserving excess cooking for a snack later in the week or even kids picnic boxes.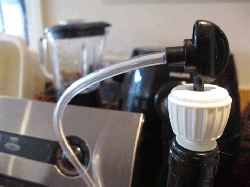 The hose is also used to vac out the air from half-drunk bottles of wine. This is not perhaps a problem for most of us, but on those occasions when a bottle is only half drunk you just fit the special stopper and remove the air. With the air gone the process of oxidisation is slowed and the wine is still drinkable 24 hours later.
We vacpacked ground coffee bought in bulk and then divided up into small weekly portions and stored. We took a 1.5 Kg lump of Parmesan and chopped off enough for the week then vacced the rest for storage. We vacpacked bulk buys of fresh pork chops and chicken breasts into meal portions for the freezer as well a large porchetta.  And we marinaded.
This last is a bit of a foodie find. Place meat and marinade in the special box, attach pipe and use'marinade' setting. The machine then sucks the air out, holds a few minutes, then releases. Then repeats over a ten minute cycle. The meat fibres open up during the vac cycle and then relax, open up then relax. This allows the marinade to penetrate deep inside the meat in a way that would normally take many hours.
So you can do a lot with a FoodSaver and the name doesn't really do it justice. Yes it's great for avoiding waste, but foodies will find it a boon too.  It fits into a busy kitchen very easily and we soon found ourselves using it a lot.  You can buy extra storage boxes of all sizes on line.
With Xmas excess inevitable, this little device could pay for itself almost immediately as it stores and saves for you.
Check it out online at the FoodSaver website and on Amazon and on their Facebook page
*Research was conducted with Censuswide, polling 2,000 GB adults between 28/09/2012 – 10/10/2012.
{YOUTUBE:5RrbjQ9p44g}