Ever one to live the high life, Nick Harman rises up to the Chef's Penthouse in Park Lane for a unique lunch experience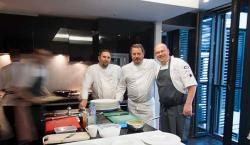 '£3500 a night,' I'm pretty sure I heard that correctly, that's the price you'll pay to stay in Grosvenor House's two bed penthouse. What the bigger five bed one costs probably beggars belief, or beggars your bank account anyway.
I may be wrong as I'm standing on the penthouse balcony, looking out over London and the wind is whistling in my ears and making me miss bits of conversation. I am also rather unsteady after an 8 course tasting menu served with matching wines in the penthouse's dining room, and because I am also concentrating hard on my personal fantasy  – that this is actually my flat. And can you blame me? Every one of the rooms is luxurious and'well-appointed' in estate -agent speak and the address, well my dears who wouldn't want to live on Park Lane behind a 1920s Lutyens façade?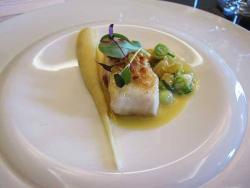 I'm here not actually to indulge in my fantasies of course but to taste 'Chef's Penthouse'; a one week pop-up providing an'at home' experience with two great chefs – Simon Hulstone (UK) and Robert Wiedmaier (USA).
Brought to Grosvenor House Apartments by Jumeirah Living London by TLF Worldwide (the team behind The Cube), guests at the Chef's Penthouse enjoy an intimate dining experience at the chefs"home away from home'. Whether for lunch or dinner, each sitting is for only 12 people and includes the 8 course tasting menu as well as unlimited chef access for the option to watch and learn from the cooking process.
It's quite a process too. Simon Hulstone is chef at The Elephant, Torquay and Robert Wiedmaier has a small but perfectly formed restaurant empire in the USA and owns the famous and multi-award-winning restaurant Marcel's.  The two of them, plus a few assistants, are in the penthouse kitchen when I arrive and showing no stress at their unusual surroundings or standard cooking equipment. They've barely met but are already jovially taking the mickey out of each other as they prepare their individual dishes.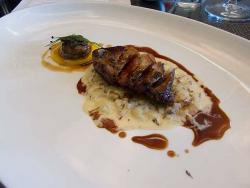 Sommelier Jason Tesauro is marching about with champagne for the guests, a vivid and theatrical man as so many sommeliers are, he too is over from USA. He pours Champagne Lenoble, Blanc de Blancs Grand Cru NY, which washes down canapés of Salted Skei brandade and Hogs pudding with a grain mustard mayo.  A breeze wafts in from the sash windows, they actually open which is a pleasant surprise in an age of hermetically sealed windows and chill-inducing air conditioning.
We sit to eat, eight courses and eight wines is a steeplechase of a lunch but it has to be hoped the going won't be heavy. It isn't of course, the chefs have consulted and cogitated as dear old Lloyd Grossman used to say, so each dish is sufficient and no more, the cumulative effect to leave the luncher sated but not bloated.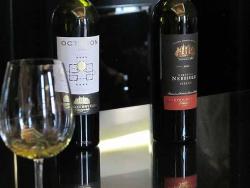 Highlights for me from a brilliantly inventive menu were a marvellous piece of Norwegian sea trout with wild garlic cream, halibut with lardo iberico draped across it and surrounded by a fennel pollen and parsnip puree, a tarte tatin of heritage beetroot and lemon thyme, shavings of goat's cheese and blueberries, and a roasted pigeon with a remarkable'risotto' of diced potato, each tiny piece infused with flavour and yet still crunchy.
Most interesting wines, of a great selection, were a Viognier from Virginia USA and from the same state a powerful Nebbiolo. A real eye-opening choice of wines many of us had never even heard of, let alone drunk before.
All in all the experience was unique and one to savour if you're a fan of creative cooking, chefs and fine wines and conversation.
Chef's penthouse runs until April 5th and if you're fast there are still some spaces left