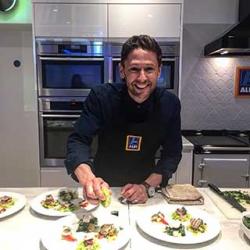 There's no doubt the discount supermarkets have seriously shaken up the UK food sector.
Stealing business from both the high and the low end, Aldi and Lidl have moved away from an image that had the middle-class making the sign of the cross as they went past to getting the middle classes to go in.
It's all been helped by German attention to detail and smart advertising, and of the two it seems that Aldi are doing better at the latter with cheap to make ideas that have a deal of wit.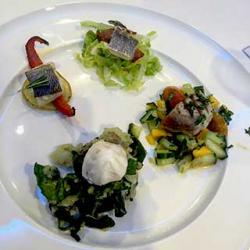 So I was happy to pop along to the Good Housekeeping Institute to see what Aldi had in store with fish.
Four dishes were prepared, well dishes is perhaps an exaggeration, they were small scaled down versions of dishes and as pretty as a picture and about two bites each.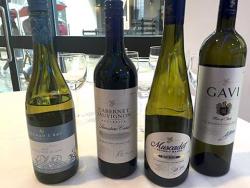 These were washed down with wine from Aldi's Exquisite Collection, a bit more expensive than Aldi's main lines but still less than you'd pay for the same wines elsewhere.
Particularly impressive was the tuna, a rich ruby red and no grey, indicative of speedy processing and proper packaging. Tasted great too.
So Aldi for fish? Yes, it's quite a catch. See the recipes below.
Go to Twitter (@AldiUK), to find wine matches for the fish and share your own recipes and cooking tips.
The fish
Specially Selected Fresh Tuna Steaks Pole and line caught in the Indian Ocean,  £3.99, 220g.
Specially Selected Monkfish Tails are sourced in Scotland £3.99, 200g.
The Fishmonger Sea Bass Fillets and The Fishmonger Sea Bass Fillets with a Rocket and Pesto Butter  £2.79, 180g and £2.79, 200g respectively.
The recipes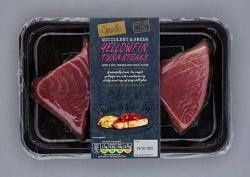 Tuna steak with a fresh mango salsa
Paired with Exquisite Collection Limestone Coast Chardonnay
·         ¼ red onion
·         ¼ cucumber
·         teaspoon olive oil
·         4/5 cherry tomatoes
·         mango
·         tuna steaks
·         ½  lime
·         pinch salt & pepper
Lightly season the tuna steak with a mixture of salt, pepper and olive oil then sear either side on a griddle pan for two minutes. Thinly slice the mango into strips around 2cm in width and griddle alongside the fish.
Finely chop 1/4 of red onion, 1/4 a deseeded cucumber and small cherry tomatoes and mix together with a tea spoon of olive oil and a squeeze of fresh lime. If coriander is available, mix a few sprigs in as well.
Serve with a tablespoon of the salsa, a layer of the mango and top with the fish.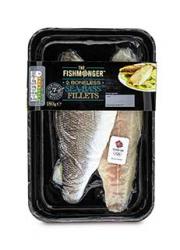 Mediterranean tray Roasted Sea Bass
Paired with Exquisite Collection Gavi 
·         2 seabass fillets
·         2 sprigs rosemary
·         2 potatoes medium sized
·         1 red or yellow pepper
·         1 handful olives if available
·         1 tablespoon olive oil
·         ½ lemon
·         pinch salt & pepper
Slice the potatoes and lemon into circles and arrange on a non-stick pan, de-seed and cut the pepper into inch wide strips, also arrange on the tray. Drizzle with half the oil, 2 sprigs rosemary a pinch of salt, pepper and mix together. Bake at 200c for 20 minutes or until starting to brown.
Lay the fish onto of the vegetables and top with the roasted lemon, drizzle with a little oil and add halved olives, back for a further 8-9 minutes.
Serve with the fish on top of the veg.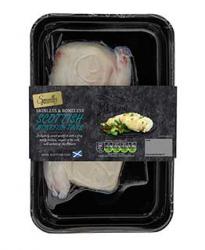 Roasted Monkfish Tails with Spinach Crushed Potatoes
Paired with Freeman's Bay Marlborough Sauvignon Blanc 
·         2 monkfish tails
·         2 tablespoons olive oil
·         salt & pepper
·         handful spinach
·         7/8 new potatoes
·         splash of balsamic vinegar
Boil the new potatoes in salted water until they fall from a knife when inserted into the potato.
Meanwhile, season the fish with a pinch of salt and pepper, add ½ tbs of olive oil to a hot pan and sear the fish for around 3-4 minutes. Add the pan to the oven and cook for a further 8-9 minutes or until cooked through but still soft.
Drain the potatoes and add a handful of spinach to the pan, put the lid back on for the spinach to wilt (2-3 mins), add 1 tbs olive oil, salt & pepper and lightly crush the potatoes against the side of the pan, do not over crush!
Serve the fish on top of the potatoes along with any juices from the fish pan and a drizzle of olive oil. If balsamic vinegar is available, drizzle this around the fish.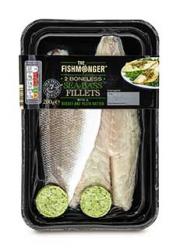 Seabass Fillets in a (Rocket and Pesto Butter) with a Crispy Savoy Cabbage, Bacon and Onion Salad
Paired with Exquisite Collection Muscadet Sevre Et Maine Sur Lie 
·         2 seabass fillets
·         1 sliced onion
·         50g butter
·         1 savoy cabbage
·         150ml boiling water
·         150/200g smoked bacon
Add the fish to a pan and roast for 10-12 minutes or until cooked through but still soft.
Meanwhile, add the sliced onion and fry in the butter until beginning to soft (around 3 mins) then add the bacon (cut into lardons) and fry until golden.
Add the sliced cabbage and boiling water, put on a lid and allow cooking at a lowered heat for 5-6 mins.
You're looking to get colour on the cabbage but without making it too soft and over coloured.
Serve with the fish on top or to the side.