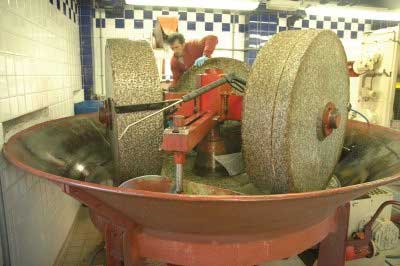 Italy is known worldwide for its many delicacies, such as wine and truffles, but perhaps one of its most famous exports is olive oil. The distinctively flavoured golden liquid is favoured all around the world for cooking, dressing salads or just plain dipping and is often a healthier option than other vegetable oils. Packed with anti-oxidants and with a high content of mono-saturated fatty acids, eating around 2tbsp of olive oil a day can improve cholesterol regulation, reduce the risk of coronary heart disease and has even been linked to prevention of cancer. But it has to be top quality to carry these health benefits.
Just like wine, olive oils are awarded different labels and grades depending on their taste, production methods, origin and chemistry. Top of the range is extra virgin olive oil, which is produced without the use of any chemicals, contains no more than 0.8% acidity and has a superior taste. This oil is normally used sparingly for dressing salads or dipping, while the cheaper virgin olive oil is still high quality but more commonly used for cooking as this loses some of the flavour. Some of the world's best extra virgin olive oil comes from the Chianti region of Tuscany where single estate bottled oils are the most sought after and expensive of all.
Chianti's soil and climate play a large part in the flavour of olives grown on its four principle tree varieties: Frantoio, Correggiolo, Moraiolo and Leccino. 'Protected denomination of origin' (DOC) and 'denomination of controlled origin' labels (DOCG) are awarded to olive oils from Italy, indicating their quality and that they are typical of the region they come from.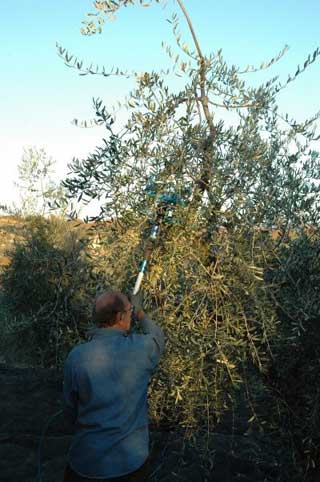 So how is this top quality extra virgin oil made? First, the trees are pruned in such a way to let the sunshine in and help the olives ripen evenly. Next, good irrigation is needed throughout the growing season and then the exact right time is picked to harvest the olives, usually in October or November. This requires some skill as getting it wrong means the acidity levels in the oil might be too high for it to be graded extra virgin. The best and most laborious way to harvest olives is by hand or with the aid of a specially designed pneumatic rake to keep them from bruising, after which begins a race against time. The olives are laid out onto a net and then washed, before the entire fruits (stones included) are crushed into a pulp by a traditional stone mill or a metal grinder and all this needs to happen within 48 hours of the harvest. To separate the water from the oil, the pulp is pressed in a traditional wooden press or a hydraulic press. This needs to be done at a temperature below 27 degrees for it to be labelled as 'cold pressed", meaning the minimal amount of flavour has been lost during the production process.
Bearing all this in mind, the best Italian olive oil you can buy will be classed as Extra Virgin, DOCG, Cold pressed, single estate. However, applying for the DOC and DOCG labels costs money, so some of the best oils can be found at small estates that may prefer not to pay for this privilege!
Those wishing to experience the olive harvest first hand should travel to Tuscany during November when you have the most chance of witnessing the process firsthand and when several olive festivals also take place. The villa rental company To Tuscany manages 50 olive trees on the Montebuoni estate in the Chianti region and welcomes guests to take part in the olive harvest should this coincide with their stay. This oil is of the highest quality and cannot be bought anywhere in the UK, but we are giving one reader the chance to win a bottle of it, together with a bottle of Chianti Classico red wine! To enter, see the competition page here.