Arto der Haroutunian is something of a legend amongst cookery writers, even though he left the world of cuisine, and the world, in 1987 aged just 47.

Born in Aleppo, Syria, the son of a priest of the Armenian Church, his parents settled in Manchester in 1952 and he studied to become an architect.

As well practicing as an architect after graduation, Arto and his brother opened the first genuine Armenian restaurant in Manchester in 1969.

They went on to open more restaurants, many designed by Arto, including one in London that was a magnet for all the stars of the day.

Arto found the time between all his other activities to write twelve books all about Middle Eastern food, each filled with historical facts, proverbs, folk wisdoms, poems and anecdotes.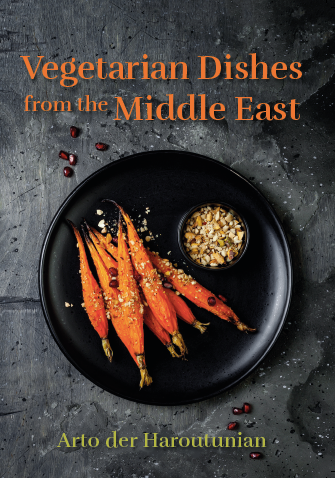 This particular book was originally published in hardback in 1983. This is the first paperback edition of these recipes from the Caucasus, Turkey, the Arab countries, Israel, Iran and more
Were Arto still around he might have decided that some bits of his introduction were no longer needed – we are all a lot more familiar with'exotic' ingredients now than we were back then. And we can find them easier.
Nonetheless his introduction and glossary of herbs and spices still stands as a model of how to write a proper cookery book; engaging erudition, a love of the subject and a passion for sharing it.


Middle Eastern food is perfect for vegetarians, meat has always been a luxury in the Middle Eas through the ages, a special treat and so vegetables are treated with near reverence.

Most vegetarians will find the meze or small plate choices in a Middle Eastern or North African restaurant a cornucopia of delights and this book is the same.

Grains, pulses, herbs, nuts and fruits also play their part in the cooking and added to them always is exotic and delicate spicing.

Here you'll find definitive recipes for falafel, tabbouleh and hummus, fantastic soups, stuffed vegetables, pilafs, preserves, breads, pickles, relishes and pastries. Every page is a winner.

Try Kookoo Sibzamini, a potato omelette dish from Iran, or avarov-Shomini Boreks which are small patties stuffed with spinach and bulgur wheat.

Many dishes can stand alone, but mostly they would be served in a profusion of choice, particularly on special occasions.

There are no pictures. None. This may not go down well with the Instagram generation, but should present no problem for the true foodie. It also leaves more room for Arto's words, about culture, ingredients and food stories which are  as delicious as any of the dishes.

This paperback repairint is welcome – hardback copies of all Arto's books are increasingly hard to find;  those who have them understandably hang onto them.

You certainly don't have to be a vegetarian to want to cook these dishes, but their variety and taste will certainly have you wondering whether you really need to eat meat at all and that can never be a bad thing.

Published by Grubstreet
Price: £15.00 paperback
ISBN 978-1-911667-11-7