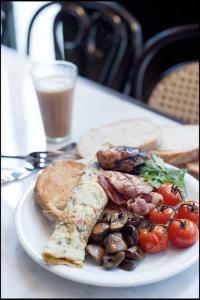 Dishoom:
1) An indian Austin Powers would have lost his Dishoom, not his Mojo
2) If Batman landed a punch in Bollywood it would say Dishoom! not Pow!
The traditional Irani cafés or Bombay Cafés of India have, in their decline, arrived in London for a transatlantic revival. Dishoom on Upper St Martins Lane has taken the best bits, marble tops, old school Bollywood glamour and of course the food, and turned a slice of London into a portal to another time and place.
As India is currently my destination du jour, I was longing to see what the fuss was about. Dishoom is new to the scene having only open in July, though with its old school look, feels like an institution. And rightly so, based on the traditional Iranian cafés that sprung up in early twentieth century India, it's only fair that they created something lasting and unique. With starchy photos of the owner's own family sitting alongside Bollywood posters and ancient adverts for Lux Flakes, there is enough to keep even a lone breakfaster entertained.
Arriving out of the cold and into the warmth and quiet bustle of the café I immediately got my mitts on some of the warming chai and settled down with a menu. As the chai worked its magic, reviving my senses with its subtle spicing and sweetness I embraced the chance to have a gander at my fellow diners. With mirrors everywhere in here – literally everywhere – this is one place Mr. Nosy Parker would feel right at home, and another way in which it has stuck to its Bombay café roots.
Starting off with their breakfast lassi, with oats and a pleasant hit of cumin I wondered about the rest of the menu. There were some expected favourites including the Roomali and Bombay Omelette. I was less certain about the authenticity of the bacon and Cumberland sausage naan, but then I guess it's impossible for everything to scream Bombay. The granola was delicious, homemade is always a winner and this one was deliciously nutty with a hint of spice. Creamy vanilla laden yogurt and fresh fruit finished it off and was a perfect start to the day.
As well as the breakfast crowd, Dishoom has an eclectic lunch and dinner menu. Embracing the traditional food of the Bombay cafes and putting some twists on them too, I suggest starting with breakfast; it's the kind of place you won't want to leave in a hurry. Now then…off to re-find my Dishoom!
Dishoom 2 Upper St Martins Lane, London WC2H 9FB