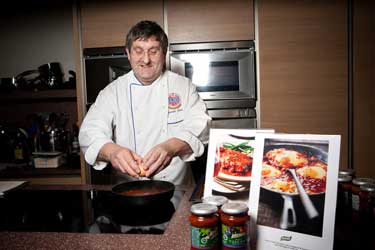 We were invited to La Cucina Caldesi, chef Giancarlo Caldesi's cookery school in Marylebone, where he offers a wide range of short courses and events, for a preview of the course he has developed using Dolmio Taste of Italy sauces. This particular course, Dolmio 'Taste of Italy Flirting with Flavours' was a one-off put together specially for those successful candidates selected through reader offers in the press and on line to give a demonstration of how to use Dolmio's newest, range of products to prepare interesting dishes, devised by Giancarlo, for their loved one at home on Valentines day.
Giancarlo made six different dishes for us to sample during the evening. He started by using the same sauce, Taste of Calabria, for three of these, in order to demonstrate the sauces' versatility. For the first, with fried eggs, he simply poured the sauce into a pan with some olive oil, heating this to amalgamate the two ingredients before cracking eggs into the sauce and cooking them directly, having seasoned them with a little salt, pepper and truffle oil first. This sounds like an odd combination, but the heat from the pepperoni within the sauce came through, working very well with the eggs. The same sauce, with the addition of capers, some wine, olive oil and fish stock and some pan-fried cod, took on a very different and distinctive flavour when combined with a range of ingredients for a calamari dish, which was finished off by zesting a lemon into the pot allowing it to infuse for a few minutes before serving. This gave the dish a great zing, lifting it and combining perfectly with the calamari.
The other dishes Giancarlo prepared for us were; Linguini, using the Taste of Rome sauce, adding a little cream, chilli and parmesan; Chicken combining the Taste of Sorrento sauce with some white wine, and Steak which he cooked medium rare then immersed in the Taste of Tuscany sauce to which he added a little red wine, cream and olive oil. All of these tasted good, we were pleasantly impressed by the freshness and flavours that this Dolmio range has, as well as how Giancarlo had used them with some subtle additions to create dishes that you would be happy to present to your family and friends.
If this has piqued your interest and you would like try some of the recipes that Giancarlo has developed for Dolmio, you can find these on the Dolmio website www.dolmio.co.uk. Should you be interested in the range of courses and events that are available at Giancarlo's cookery school, you can find details of these on his website www.caldesi.com – both of these sites are well worth taking a look at.