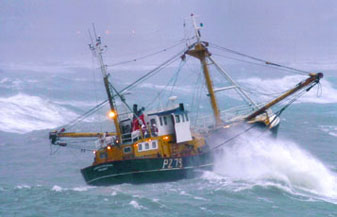 One of the success stories of Luke Johnson, the man behind for my money the only decent pizza chain, Pizza Express, FishWorks now looks to be in trouble. It's making a loss and unlike the average angler, is not exaggerating when it says the problems could be bigger than predicted. On their website the gloomy statement is:
The Company announces that it has continued to experience the challenging market conditions referred to in its announcement of 28 November 2008. As a result, and following discussions with its bank, FishWorks announces that it has requested a suspension, with immediate effect, of trading of its shares on AIM, pending clarification of the Company's financial position and strategic options.
With restaurants, counters and cookery schools each specialising in seafood, FishWorks was founded in 1994 although it seems only yesterday, at a time when fish was cheaper, egalitarian and no one peered suspiciously at their cod and asked the waiter 'Is it sustainable?' The move upmarket into locations where locals had more cash also meant higher rates and rents and like many restaurants Fishworks has found that sales figures have recently slipped down like a greased eel.
It's a salutary message to all those restaurants rushing to open and not one they will be happy to hear. Most these openings were planned back in the good old days and are unstoppable now. Many will now be wondering if like FishWorks they will caught out in 2009