I'm ambivalent about the idea of starter in one restaurant, mains in another and dessert in a third. On the one hand it means I can have a fag between courses, a pleasure crudely curtailed when the smoking ban came in. On the other it means getting out of my seat and walking, which may be good for the digestion but not for my bonhomie.
Well when an event is titled a Food Safari, one should expect some discomfort, along with the expectation that it might be fun. The idea being for to visit some Clerkenwell restaurants that have signed up to the concept of keeping a close eye on where and how their ingredients get to them.
It was all part of an event organised by the Sustainable Restaurant Association (SRA) conceived by restaurateur Mark Sainsbury and ethical business consultant Giles Gibbons, to make sustainability simple for restaurants, as well as to recognise and reward them for their efforts.
Also on board is fast food chain LEON's Co-founder Henry Dimbleby, as well as experts in the field of environmental development such as Tara Garnett, expert in greenhouse gas emissions and Chris Goodall, climate change expert and author of Ten Technologies to Save the Planet.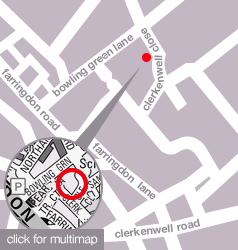 Appropriately enough Henry rolled up on his bicycle to the first venue, The Clerkenwell Kitchen, so no greenhouse gas was emitted by him, at least none that I noticed. At The Kitchen the deck outside was growing potatoes while inside we were growing hungry. A salad of soft boiled eggs, runner and broad beans, peas and a dressing made with egg yolk and salad cream was just the job. If there's anything more in season now than good old runner beans, I'd like to see it. The broad beans were a surprise though, usually by now they're over their best. This was a light dish that benefited from being only lightly cooked so that the sweet flavour and texture of the beans came through perfectly, the yolk of the egg just runny enough to help lubricate the broad beans, which can become mealy at this stage of their cycle.
The two owners have a pedigree in Eco-kitchen; Emma worked for Hugh Fearnley-Whittingstall at River Cottage in Dorset and Laura was head chef at La Fromagerie in Marylebone. They also have a distressing tendency to refer to their evening meal as 'supper'. The fact that they close at 5pm means that this goes right out the window, no one eats supper that early, not even in Hampstead. Down my neck of the woods we are in fact eating our tea, but then we're sink-estate scum innit.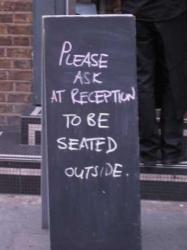 Hi ho and off to the next venue, The Modern Pantry. A nice oxymoron since no one's had a pantry since Evelyn Waugh was a boy and when they did it was almost certainly too small to eat in. This old Clerkenwell house has been painted in the shades of paint you can only buy at Daylesford Organic and it's all very tasteful with rambling rooms on various floors concealing happy diners
Here they have prepared line-caught sea bass. Line-caught is of course infinitely preferable to net-trawled. Anything other than bass appearing on the hook, or any under-sized bass, can be thrown back with no more damage than a split lip; something I almost suffered myself when I begged the bloggers present to stop taking photographs and just eat their bloody dinner ffs.
Not quite as crispy-skinned as I like it this was still very good fish, crusted with chermola and well cooked. It sat on an excellent bed of that wonder fuel Quinoa, the grain's bubbly texture contrasting well with the silky fish and laced through with the sour bite of tahini. The rich flavour of preserved lemons gave it real North African appeal, the quinoa replacing the cous-cous of course, or of cous.
By now it was getting really hard to contemplate moving on but chivvied and harried by our minders we were herded out the door. To be honest I needed little encouragement to go to the Zetter; Bruno Loubet is packing the place with his excellent Bistro cooking and even if we were only having dessert it was worth the short walk.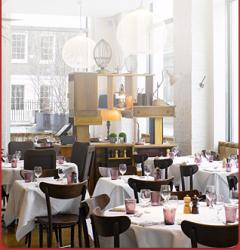 The staff at Zetter seemed less than delighted at having a bunch of bloggers taking up valuable space but gallantly hid it even though their glances over told a somewhat different story. I don't blame 'em. Personally I wanted to escape through a space time continuum that I was concentrating hard on creating under the table. I felt like a tourist in my own town and when the cameras came out yet again I almost died of shame.
Dessert went some way to taking my mind off my embarrassment. Seasonal strawberries are one of the UK's undeniable delights and here they were partnered with ice cream laced with pepper, a combo that worked surprisingly well, plus a sticky pink macaroon that I am still trying to get out of my teeth as I type. Soon after, fuelled by an expresso, I made my excuses and left.
The concept of restaurants sourcing both ethically and, as much as possible seasonally and locally, is impossible to criticise. We can all help drive it forward by asking questions of the staff to clarify the restaurant's position. If enough people do, then restaurants will either learn to lie barefacedly or, better still, start to adopt a sound policy and one which can only benefit us all.
---
Currently the hotel and restaurant sector has the lowest levels of environmental awareness of all business sectors, as proven by The Environment Agency. Food services and restaurant industries are responsible for a staggering 3 million tonnes of food waste annually, whilst restaurants throw out an incredible 600,000 tonnes of glass bottles a year and restaurants in England and Wales are using 391 million cubic metres of water annually, enough to fill over 104,000 Olympic-sized swimming pools. The SRA hopes to change this, working with restaurants to make changes throughout the UK.
For further information about the Sustainable Restaurant Association please visit www.thesra.org