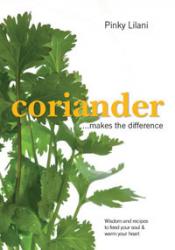 In the swish 'Poggenpohl' kitchens of Harrods, I meet the very lovely Pinky Lilani OBE who is hosting an intimate cookery master class featuring dishes from her latest book 'Coriander… makes the difference" Featuring a selection of Pinky's favourite recipes using coriander as well as some charming words of wisdom from 40 of Pinky's friends and colleagues, the book is billed as 'Wisdom and recipes to feed your soul and warm your heart".
Pinky is a very warm and humourous lady that puts you at ease within seconds of meeting her. She is a renowned motivational speaker as well as a wife and mother. She is clearly very well connected, as some of her 40 featured 'friends' include Cherie Blair QC, Jane Asher and other senior figures, from Princesses and Baronesses to CEO's and MBE's.
To be perfectly honest, this book isn't just a mere cookbook, it's a lot more than that. With over 10 pages of proverbs, everyone from Plato to Voltaire, it's quite inspirational. 'Is it relevant?" I hear you ask… well, yes it is. This book seems to embody the kind of cook that Pinky Lilani seems to be. Her cooking is from the heart and I guess the proverbs are the perfect nourishment for the soul. Pinky believes that 'It's the simple things that mean the most" and her recipes are wonderfully simple yet deliver abundant flavour and pleasure to the palate.
For our special intimate meal, she prepares spiced chick peas and spinach and salmon tikka with aromatic cumin rice and a simple mango mousse to round the meal off. Simply delicious.
'Coriander… makes the difference" – £9.99
{ISBN:0953635422}