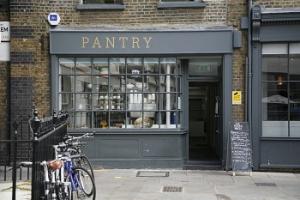 Chatter of Christmas is inescapable so why not have my only incy wincy taste of Christmas? I decided to try a few dishes by restaurants exhibiting at this year's Taste of Christmas exhibition. It seemed a better option than turkey ciabatta at the local trattoria.
We had a little spin around four City of London places, a course at each one. At vegetarian organic Italian restaurant Amico Bio, I started with salad of organic spinach, apple, grano padano with apple dressing which pretty much did what it said on the menu – a bit perfunctory, perhaps too simple.
At Club Gascon, we tried a stuffed capon with pumpkin, chanterelles and mango puree. This was lovely, a little roulade of chicken with a filling tasting almost marrow meaty, certainly looking like marrow and well balanced by the sweet mango and buttery pumpkin.
My absolute favourite was the Modern Pantry's Vietnamese style Duke of Berkshire pork belly with mash, pickled beansprouts and crispy shallots (see recipe below).
Wonderful fusion, brave and excellently mixed, the fragrance of anise and cinnamon focusing the porcine intensity. It was paired with a great raucous and bloody Maori Point Pinot Noir 2008 recommended by Neil Phillips – self-dubbed 'wine tipster" and our guide for the lunch.
Rounding off at Malmaison, we had an assiette of desserts including a good, homely apple and hazlenut crumble with caramel custard. After a little nip of whisky, it was time to escape talk of Christmas. Oh well, it was nice while it lasted, now when's May Day?
Taste of Christmas will be held this year at ExCel London from December 3-5.
Thit Heo Kho
Vietnamese style slow-cooked pork as at The Modern Pantry
Serves 6
1k pork neck or shoulder diced
4 shallots
4 cloves garlic
6 star anise
1 tbsp
5 spice
½ teaspoon light soy sauce
100g pale palm sugar grated
¼ teaspoon fish sauce
375ml water
Garnish
½ bunch coriander, roughly chopped
4 spring onions sliced
Crispy shallots – make your own or buy from China Town
Method
Brown the diced pork in a little vegetable oil in batches. Be careful not to overcrowd the pan as you will end up stewing it instead. When you have finished, deglaze the pan with the water using a wooden spoon to scrape off all the caramelised goodness that has stuck to the pan. Tip these juices into an oven proof dish along with the pork and the remaining ingredients. Cover with a tight fitting lid or foil and braise for an hour or so at 140C until the meat is tender. Garnish with Coriander, spring onions and crispy shallots.