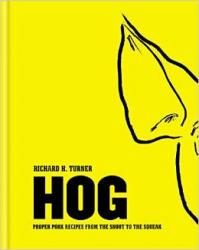 Pork. Everyone loves pork, Muslims and Jews aside of course. Richard H Turner, the H plus his porcine infatuation, suggests he might be American but he isn't, definitely loves pork and this book is his on bended knee homage to the hog.
He's in good company, he has Fergus Henderson writing a strange little poem to the pig at the front of his book and food writer Diana Henry's house apparently doubles as studio for his recipe photography.
Turner has been instrumental in the success of Hawksmoor and Foxlow and with Pitt Cue, located not a hundred yards from where I am typing this, he has created the ultimate pork shrine where hipsters go to worship every night over sacramental craft beer and the ribs of their lord pork.
The book is broken down, an apt expression when you think how much of a pig we can eat, into Prime Cuts, Chopped, Minced and Mixed, Sausages, Cured, Snoot to tail, Smoked and Basic Recipes. You don't have to start at the front, but random page turning tends to induce a kind of frenzy of want so it's best to take things slowly.
And it all begins with the pig, unsurprisingly. Richard wants us to respect our pork and buy only the best and that means slow maturing rare breeds. Most of the pigs we eat are forced too quickly and slaughtered too soon.
He has tips on what to look for when buying pork and a deep layer of fat is always a sign of a slow matured pig. Of course this will cost you, but there's a price for everything in this life and surely great crackling is worth the money?
And so to the recipes: ragouts, hams, roasts, grills, hotpots, pies and everything you could possibly think of and he travels the world not just the Deep South of the USA. Ham croquettes from Spain. Khao Kinchin from Thailand, a chorizo tortilla and classic French terrines all leap off the page at you. It makes you realise how ubiquitous the pig is in world cuisine.
Naturally there's plenty of info on live fire cooking, a subject that fascinates males with its butch promise of escape from the safeness of modern urban life, and how to get it right and he even tells you how to make your own air-dried prosciutto, although he cheerfully admits you'll need a fair portion of luck to pull it off. He tells you how to make bacon too, which reminds me of a schoolboy joke but I'll save that for another time.
People tend to think of large men in Southern America when they think of pork but I always think of China where pork gets treated differently and Richard has Chinese recipes to suit. And for me a Porchetta is the perfect way to eat pork, glowing with crackling and rich with herbs. All you need is Richard's recipe and a bit of skill with string.
Or take that belly and make sticky toffee pork, it sounds superb. The book really is one that you will spend time dribbling over, particularly over the smoker recipes and yes pulled pork does make an appearance with Richard acknowledging that while it has become something of a cliché it can still be good when done right. And he tells you how.
Roast Haunch of Wild Boar, Fried Suckling Pig Chops, Porchetta Trevigiana, Fat Dirty Rice, Steamed Pork Buns, Stuffed Cabbage, Crispy Pork & Pickled Watermelon Salad, Candied Bacon Pecan Popcorn – you name it he porks it.
Pork is good; this book will make a pig of you.
{ISBN:1784720011}
More into veg? Try One-Pot Gourmet Gardener by Cinead McTernan
Spice it up with Secrets From My Indian Family Kitchen by Anjali Pathak
Crack on with Egg: Recipes Inspired by the Simple Egg by Blanche Vaughan
More Books