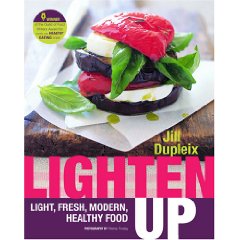 Jill Dupleix is also Mrs Durack, wife of the craggy Independent on Sunday's restaurant critic. As she candidly states in her thoughtful intro, she watched her husband gain weight at an alarming rate of knots but knew that a simple diet would not work – he liked food too much. The answer was to keep all the flavours and fun but to 'lighten up' so that her husband could regain his old shape but keep his passion.
Jill, like her husband, is an Australian and while it's stereotyping to say all Aussies are blunt speakers it's not exactly untrue either. Her style, honed over many cookbooks and newspaper columns, is abrupt. Her instructions so terse as make a telegram seem prolix. DRAIN, MIX, SHAPE. COOK. It's like being drilled by a particularly tough Sergeant Major.
The recipes are all present and correct though. Sourced from all over the world, with a slight emphasis on the Far Eastern as is inescapable when looking for healthy ingredients and methods. There are super sounding curries and tofu dishes, slow cooked meals that help the busy cook get a meal on the table with minimum fuss, great soups and nibbles. The Harissa beef with couscous is simple and delicious, the mixed grill with mozzaraella couldn't be simpler, a salmon orange and chickpea salad makes you feel healthier just looking at the picture.
With sections labelled, Easy, Special, Steamy, Fruity, Slow, Morning etc it's easy to find your way around this book and to find something that appeals almost instantly. If you love your food but aren't too fond of the love handles, this is the book to browse and be inspired by.
{ISBN:1844007014}