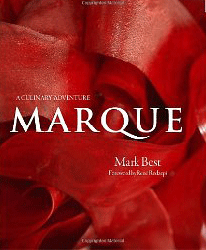 Any chef who has Rene Redzepi writing a glowing foreword to his book must be doing something right. Redzepi, currently No 1 chef in the world with Noma is clearly a man who knows his onions. And his moss, seaweed and many other foraged things.
Mark Best is an Australian chef; his restaurant Marque was named the Australian Gourmet Traveller 2012 Restaurant of the Year, not bad for a man who started his working life as an electrician in the goldmines of Western Australia. And as he says in his thoughtful intro, he never set out to be a chef at all. Rather like Heston, who Mark is rather lazily compared to in his home country, he learnt on the job.
Growing up in a country place where seasonality wasn't a fad but a way of life and now in Sydney he sticks to his innovative style of cooking still based around making the most of what's available when it's available.
Not that his food is simple, as you browse this coffee table book enjoying the great photography and back stories, you soon notice that precision in measurement and process is vital if you ever want to come close to replicating the dishes you see. You also have to get out your calculator as these are restaurant portions. Foie gras ice cream, beetroot snow and maple syrup'feeds 30 people' and you'll also need a Pacojet, a blast chiller, a lot of patience and some considerable skills.
In fact the book, despite its superb photos and captivating stories, with its 80 stunning recipes seems more the kind of book a chef would buy to learn and experiment from. It's food to look at and sigh and wonder over, an antidote to boring food and a statement of what's possible. Dream of cured duck ham with duck liver and parmesan custard (allow three days to make the'ham' and you better have a vacuum sealer, a sous vide bath and a Thermomix in your kitchen because Mark assumes you do). Basically, this is not going to be the book you turn to for a simple weekday meal.
This is ultimately a book you will probably never cook from but you will enjoy enormously. It will make you want to search out restaurants that take the care, the creativity and the time that Marque does to deliver a dining experience beyond the norm. You'll eat with renewed appreciation of what it takes to be a chef at this level and you'll savour every morsel because you'll have a good idea of just how hard it was to create.
{ISBN:1742702333}