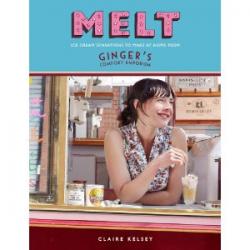 If you've ever considered making your own ice cream at home but were put off by what you imagined would almost certainly be a long, arduous process with mixed results, then I sympathise. I love ice cream as much as the next person, but I'm quite happy for someone else to make it for me. What's more, the thought of buying yet another kitchen gadget has been enough to put me off so far.
Enter Claire Kelsey, darling of the British street-food scene, and owner of a converted Ford Transit van known as Ginger's Comfort Emporium. Claire has spent the last few years taking her van to festivals and food markets, serving unusual ice cream creations such as Olive Oil and Sea Salt, and Gorgonzola with Honey. The travelling retro-styled Emporium has been a huge success, but now Claire is turning her attention to the ice cream maker inside all of us with her first book, Melt: Ice Cream Sensations to Make at Home.
Before getting to the recipes, the book sensibly opts to explain the churning process. It's quite simple really: the mixture has to be kept moving while it freezes or you just end up with a hard block of ice rather than a soft, smooth tub of creamy joy. Happily, there are many ways to churn. The most common machines require you to freeze the bowl for 24 hours before using and although these are fairly cheap, it does rather squash spontaneity. As Claire points out, it also limits you to 1-litre batches at a time, which is perhaps less of a problem for most people. More advanced machines have an in-built compressor that freezes the mixture as it churns, but they come at a higher price.
Most attractive to me, is the method that requires no machine at all. By simply putting your mixture into the freezer and giving it a stir every 30 minutes or so, you will be rewarded with a beautiful tub of home made ice cream after four hours. Although it's a longer process and requires a bit more care, there's something pleasingly honest about this method. Dry ice is another option, a la Heston, but a bit too mad scientist (and potentially dangerous) for most of us.
The recipes themselves are loosely categorized into sections such as'Creamy','Spicy', and'Boozy'. In a small concession to traditionalists, Claire gets the recipes for Vanilla, Strawberry, and Chocolate out of the way right at the start, but from then on in it's all'Camel's Milk Ice Cream','Coriander Leaf','Melon and Chili' and'Durian Choc Ices'. Ultimately, some flavours are going to be more successful than others, with some pleasant surprises and perhaps some not so pleasant ones. Once you've learnt the skills though, you can come up with your own creations. As Claire says,'it's an experimental cooks dream'.
Melt is clearly laid out, with appetising photos and easy to follow recipes with numbered instructions. The book is attractive and nicely designed, if a little retro-kitsch. As an introduction to ice cream making and as a inspirational tool for flavour experimentation, Claire Kelsey's book certainly does the job. 
{ISBN:1471101916}