In a world of concrete and pre-packaged portioned fruit, Tom tries to find out if a new book from Cinead McTernan can help him become a more self-sufficient cook.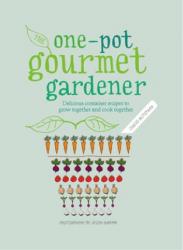 Sometimes I think about leaving this wretched city. In a morning, as my train creeps over Borough Market towards London Bridge, I imagine living in a place where people say hello to strangers and know their neighbours' names. A place where I'd be able to see the stars at night, where sirens are a rarity, and where I could grow my own vegetables and pick the things I wanted to eat.
One day I will probably run to this day dream land, but until then, in an effort to keep myself sane, I attempt to find small compromises; the odd trip out to the countryside for example.
Last week I believe I found a new compromise when I received a copy of Cinead McTernan's latest book; One-Pot Gourmet Gardener. 
The book isn't your ordinary cookbook. Yes it contains recipes, ingredients lists and sexily shot pictures of tomatoes; but it also tell you how to grow the main ingredients of each recipe in just one pot. In fact, within ten pages the part of my window-gazing-world in which I stumble out into my garden and pick freshly grown vegetables seemed almost possible in London, as long as I was willing to swap the garden for my balcony. 
There are twenty-five recipes in total split into five sections; picnics, soups & salads, quick suppers, tasty accompaniments and drinks & puds. After this each recipe is again split into two sections;'Grow Me' and'Eat Me'.
The Carrot Pesto recipe, for example, begins with a short punchy intro before providing the reader with a'Pot Recipe'; "12 X garlic cloves, 1 X packet of carrot'Caracas' seed, 1 X pack of nasturtium'Banana Split' seed, 1X 45cm/18 inch diameter container, multi-purpose or soil-based compost, general organic vegetable fertilizer." 
As I'm sure you can already tell it's a pretty thorough read. In fact, before even getting to recipes there are around thirty pages explaining growing techniques, soil types, useful tools, pot positioning and much, much more. 
After being fully instructed how to plant, grow and harvest the necessary ingredients the'Eat Me' section then provides a simple, well written recipe for the pesto and two pictures; one of the original, just picked ingredients and one of the finished dish. These pictures make me happy, even if not that inspired by the idea of a carrot pesto.
Other recipes include Pimms Jelly, a pizza, Sage & Broad Bean Custards and a Courgette & Fennel Tart. All nicely laid out, all telling me I can easily grow them, and all accompanied by good photography.
Of course the real question this book raises is will anyone actually plant some seeds in one pot, then wait the appropriate amount of time, perhaps months, then harvest their crop all for a bowl of Gazpacho or a jar of Chilli Jam? Perhaps the'one-pot' theme is just a little too structured, slightly over-engineered?
I'm not too sure, but I do know that yesterday I bumped into my neighbour and found out that his name is Ricardo.
 After that I guess anything is possible.
ISBN 978-0-7112-3590-8
Buy now at Amazon.
Rather read about Nik's recent trip to The Barbican Lounge?
Or find out what happened when Nick began reminiscing about eggs?