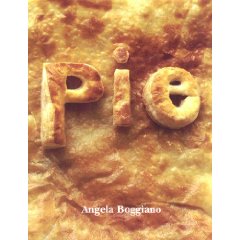 Ahhh pie, is there a more heart-warming word in the English language? Whether sweet or savoury, a pie is a thing of beauty and one which when it comes to table always stops conversation. It's the smell of the pastry, the waft of escaping steam and the fact that it has to be shared by all that makes it such a focus of attention.
This brilliant book comes in its own pie-coloured cover, which is enough to make you salivate before even opening, rather like a pie itself. Inside Angela Boggiano takes you on a pie journey that isn't just about great recipes but also about the history of pie itself. And the history of pie is in many ways a history of the UK and you feel a patriotic tear sting your eye as you read of the Cornish Pastie, the Steak and Kidney and the infamous football pies. Nor are the foreign pretenders ignored; the noble Bouef en Croute, the sun-struck empanadas of Spain ad the Greek Spinach pie all figure strongly.
But before you get a pie in the oven you need to make the pastry. Of course you can buy it ready made and do so if time is tight, a pie is worth a small shortcut. Making your own pastry means controlling what goes into it though so that you know it's all goodness. Here Angela excels, demystifying the process of making all the types of pastry and even providing a recipe for wheat- free pastry so that even coeliacs can partake of pie.
And then come the recipes grouped by style, here you'll find Steak and Kidney, Beef and Ale, and a rather tempting Lamb, Mint and Pumpkin Pie. A Spanish Pepper and Chorizo pie brings in the rich flavours of the Meditteranean and how about a Curried Football Pie for sheer gutsiness or a Smoked Salmon Prawn and Herb Pie for more refined dining?
Of course pies come in all shapes and sizes and there are the Noble Pies for special occasions, especially the raised ones with hot water pastry that stand proud without the need for a dish, ones such as a Veal and Ham Pie or the classic Melton Mowbray. Then come the dessert pies such as classic Apple Pies and Pumpkin Pies and a very tempting Chocolate and Pistachio Cream Pie.
With this book you can rediscover the joy of simply making a pie in advance, popping it into the oven and then relaxing as the aromas drift out and into your dining room. All a pie needs when ready are family and friends to gather around it, noses twitching and serving spoons at the ready.
And don't forget British Pie Week
{ISBN:1844034488}