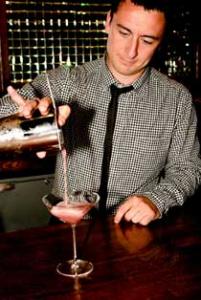 Intrigued to taste the inspiration of Yorkshire mixologist, Andy Pearson, I ventured below the Thames waterline to the cellars of the Royal Horseguards Hotel, One Whitehall, from where a (boarded) tunnel connects much of Whitehall.
Best known for BBC's 'Something For The Weekend', Pearson has expended considerable thought into crafting a series of cocktails representing the 'mood' of the four luxury hotels in the 'Guoman' group.
Set to launch on 1st November, all profits will be donated to charities helping wounded British soldiers – 'Help for Heroes' and 'The Household Cavalry Charitable Fund'.
During the preview, I noted that Pearson is a keen historian, often quoting brands' back-stories to bring them to life. Named 'Punto Central' (£9) to reflect the centrality of the Charing Cross Hotel (facing the replica of the final Queen Eleanor Cross) the first cocktail was served in two 'genders', both blending apple, ginger and raspberry juice. The male version is mixed with Cutty Sark Scotch and Edward VII's King's ginger liqueur (recently publically released by Berry Bros. & Rudd) whilst the female one is based on vodka with Chambord raspberry liqueur and decorated with a floating, frozen raspberry.
Served on an Oxford blue leather coaster embossed with a regimental motto, the 'Cavalry Cocktail' at the Grade I listed, Royal Horseguards takes a more vinous stance, blending red burgundy, ruby port, Courvoisier Exclusif and Grand Marnier (£12).
'The Tower' cocktail is an affectionate tease of the Grade II listed, Tower Hotel, facing Tower Bridge. Priced at £11.84 (Tower Bridge originally cost £1,184,000 to build), the Beefeater gin based cocktail is served in a jewellery box – a reference not only to the hotel's boxy appearance, but also the proximity of the Crown Jewels. Dusted with Nutmeg, Pearson's 'secret' ingredient, it combines peche de vigne, Yellow Chartreuse and orange, pink grapefruit and lime juice.
Reflecting the modern aesthetics of the Cumberland Hotel, 'The Park Lane' (£10) is built on a base of Bombay Sapphire – a brand which hosts its own glass design competition each year, then topped with 'muddled' melon, Limoncello and Champagne.
For more information, visit:
http://www.guoman.com/corporate/about_us/press_office/cocktails_with_a_conscience_hit_londons_top_hotel_bars.html