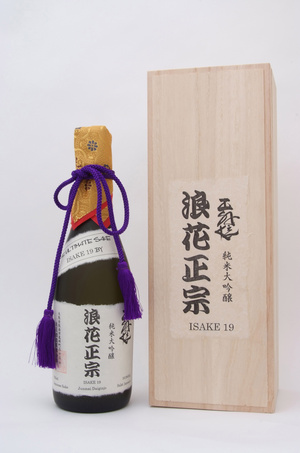 Now Available From Harrods And Selfridges The Isake 19 Is Ready To Enjoy at just £475 a bottle!
Naniwa Sake Brewery have created a new batch of Isake 19, a sophisticated sake born from the ultimate development of rice milling technology and their skill.
Junmai Daiginjo or Daiginjo, Premium Sakes are made from rice milled to refine their flavour, typically down to 50% of the kernel size for the finest sake.
Made from Yamadanishiki rice, however, Isake 19 is milled to an incredible 19% of the original size! This is the highest degree of milling of any sake in the world, the most sophisticated marriage of tradition and technology. It is the pinnacle of refined elegance, subtlety and delicate taste and aroma.
The tasting note for this sake is:
On the nose, this sake shows a delicacy of mineral aroma that might remind people of Grand Cru Chablis. On the palate, it is full-bodied, with haunting quince and gooseberry flavours, and a hugely long, clean finish.
You can even watch a short video of the making in Japan. A
To watch it go to Youtube
Dramatic changes in technology in the late 1960's enabled saké makers to create sakés which are much more delicate than befire
The most significant of these changes has been the improvement in technology of the saké rice milling equipment. Up until the mid 1960's saké rice milling technology could only mill the rice cost effectively down to about 70% of the original size of the rice kernel. Finally, the technology was refined to enable saké makers to mill the rice down to as low as 35% of the original kernel size. This allowed saké makers to increase the proportion of the dense starch packet in the centre of the kernel of rice (the Shinpaku) in proportion to the fatty acids, proteins and other impurities in the outer portion of the rice kernel.
Grade: Junmai Daiginjo
Polishing rate: 19% (remaining of the grain)
Rice name: Yamadanishiki
Alcohol degree: 16.9%
Nihonshudo (Sake meter value) : +2
Acidity: 1.2
Retail Price: £ 475