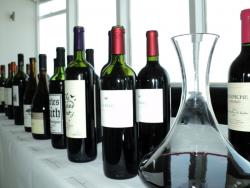 When invited to the wine tasting that Laithwaites put on recently, at Altitude 360, I was hardly going to turn down the opportunity, some excellent wines and a stunning venue at the top of one of the south bank's tallest buildings. I just had to go. When this was followed up by an invitation to lunch with the man himself, Tony Laithwaite – the company's founder – together with a select group of other writers, I thought the potential for the day just couldn't get any better and I wasn't disappointed.
I arrived at this marvellous setting to see tables displaying over a hundred different wines. Even as a long-standing Laithwaites customer I hadn't previously realised quite how extensive their list was. So with glass in hand I set about the task of working my way around the room. Clearly I can't tell you about all of the wines I tasted, but a few of the highlights are below.
First the Christmas Essentials wines, I'm not a big fan of mixed cases myself, but this one has some lovely wines, the Abbesse de Loire Sauvignon Blanc for example. As you breathe in its perfume your nose is filled with fresh sharp green fruits, on your palate there is a great fruity acidity which leaves a tingle on the tongue and has good length in the mouth. The Domaine Des Pins Pinot Noir had strawberry, raspberry and vanilla notes on the nose. When you taste it tangy forest fruits come through, there's a slight acidic bite and some tannic drying edge to this medium bodied red. It would probably go very well with your Christmas turkey. Moving on to the Christmas Luxury case, the Masseria dei Carmelitani had apple and grape perfumes rising from it. This white was a big mouthful of fruit, I got pineapple and citrus fruits and it has a great zingy finish. The collezione di Paolo Chianti had a bouquet of deep red fruits and vanilla and this red gave a good berry fruity flavour in the mouth with some slight pepperiness, an acidic tingle and very slight tannic finish.
Moving on, the Domaine Michel Thomas, Sancerre, with its great citrusy and green fruit on the nose was hugely fruity in the mouth, delivering those same flavours a great sharpness and good length of flavour. The Altos de la Guardia white Rioja has a fruity bouquet and a medium acidity with apricot, peach, and lemon coming through on the palate. The Angove Family Viognier had peach and passion fruit on the nose with big peach and apricot on the palate, its acidity leaving your tongue tingling, it had great depth to it. Of the reds I tasted, Henschke The Mount Edelstone, had big vanilla on the nose which came though on the palate, together with deep forest fruits and a light acidity. And the Charles Smith Wahluke Slope Cabernet Sauvignon had great red fruits and cherry in the mouth with a good tannic edge to it.
Lunch with Tony was a very pleasant affair, some lovely food in these excellent surroundings. We had wines from Le Grand Chai range, a Bordeaux that had great depth and was vibrantly fruity with a good acidity to it and the Un Vent de Folie, which had big rich fruity flavours, velvety in the mouth with a lovely tang to it, both bold wines and right up my street! There was some discussion about the wines, the company and how we saw it. There was a general consensus that the Laithwaites' products are very good and that they have a great professional approach, which is tailored to the individual.
This wine tasting experience was a little like walking into my own cellar (if only!)so many wines that I recognised, had enjoyed in the past and still do. Laithwaites certainly have a great deal to offer, both in terms of their wide range and their competitive prices, they also deliver to your door. Take some time to visit their site, it's worth it.