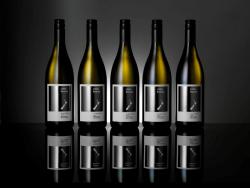 I met with Fleur McCree, who together with her partner Hemi Duns co-own Vinultra, producers of the Little Beauty range of wines, in September last year. Following that I gave you a brief history of these New Zealand wine producers, as well as tasting and commenting on two of their products. Time has come to check out more of their wines, the Little Beauty Dry Riesling 2009 and the Pinot Noir 2009 vintages, both limited edition wines. The Little Beauty wines come from Marlborough in New Zealand, the country's principal wine producing region, where the climate and terrain is renowned as being ideal for growing grapes that make excellent wines. The two wines that I tasted recently are prime examples of this.
The first, the Little Beauty Dry Riesling 2009 is a very pale yellow/green in the glass and as you raise it to your nose there's a delicate clean fresh fruity bouquet with hints of citrus, tropical fruits and apricot as well as a definite minerality. As you wash it around your mouth your palate gets a fine, tingling, almost effervescent acidity, that gives the wine a little bite. It has a great citrusy zing to it, lemon and lime come through, it has a good depth of flavour and length on the palate leaving you with grapefruit notes in its finish. This is a refreshing white that is bold and has some character. As its temperature rises in the glass its flavours develop and grow stronger. This is an excellent wine to drink on its own – as we did – but would be a great accompaniment with fish and white meat dishes. It would stand up well to those with a fuller flavour or in rich sauces.
Little Beauty Dry Riesling retails at £12.99 a bottle and can be purchased through the link below, which offers discounts for foodepedia readers on all the Little Beauty range.
The Little Beauty Pinot Noir 2009 is a bright, crystal clear ruby red in the glass. On the nose you get fresh red fruits, notably strawberry and raspberry and a hint of blackcurrant. This light to medium bodied red has some tang, its tingly acidity registering on the edge of your tongue. The strawberry and raspberry in its bouquet come through on the palate as does blackcurrant in its finish, together with the merest hint of peppery heat. This is a beautifully soft wine that has low tannins, it has a slightly syrupy mouth coating quality, yet is vibrant and refreshing with good length. It's a lovely wine to drink on its own, delightfully fruity. However, having tasted it we drank the rest of the bottle with what we were eating that evening (roast pork) which somehow boosted its fruitiness, we found the blackcurrant notes in particular became stronger. I could also see this being a great accompaniment to lamb, maybe duck and even chicken dishes.
Little Beauty Pinot Noir retails for £15.99 a bottle.
These are both fine examples of New Zealand wines and I am more than happy to recommend them. As I have mentioned Vinultra are giving foodepedia readers a discount of 15% when purchased through the link below, as well as free delivery when ordering a case of 6 wines or more.
To purchase these, or other Little Beauty wines at a discount, click here.
To read my previous article about Little Beauty wines, click here.