St Peter's Brewery – G Free range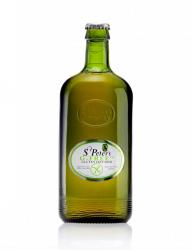 St Peter's'G-Freeâ"¢' beer is full of surprises. The 4.2% ale launched back in 2007 looks light, but tastes full-bodied, fruity and crisp; the clean, citrus flavour owing to the use of American Amarillo hops. The 3.9% Dark G-Free on the other hand looks like it will pack a bitter punch but tastes surprisingly floral and light, the flavour leaving your tongue quickly but developing slowly into a welcome aftertaste. The price is a surprise too, retailing at £1.99 at my local supermarket, the St Peter's brews look high-end, and taste high-end but come in at a competitive price for beer connoisseurs. The biggest surprise of all though, is the fact that the G-Free beers are gluten free – the clue is in the title – and yet there is no compromise on flavour or quality. These beers taste good, gluten-free or not and this must ring like music to the ears of  the 1 in 100 beer-lovers who happen to suffer from Coeliac's disease or for those who follow a gluten-free diet.
It's not just me who thinks this beer is alright, it's been voted as Europe's Best Gluten-free beer in the World Beer Awards with judges praising St Peter's G-Free for its "excellent flavour and drinkability."
Using water drawn from their own private source, deep under the chalky layer beneath St Peter's Hall where the brewery is situated, the beer benefits from a balance of minerals and almost no nitrates resulting in a well-rounded flavour and loads of character.
Upholders of custom, the brewers at St Peter's also sell a range of traditionally brewed bitter and mild ales plus some saucy additions like their Honey Porter, Fruit Beer and The Saints Whisky Beer.
You can buy St Peter's G-Free in some grocery stores and online at http://www.stpetersbrewery.co.uk/