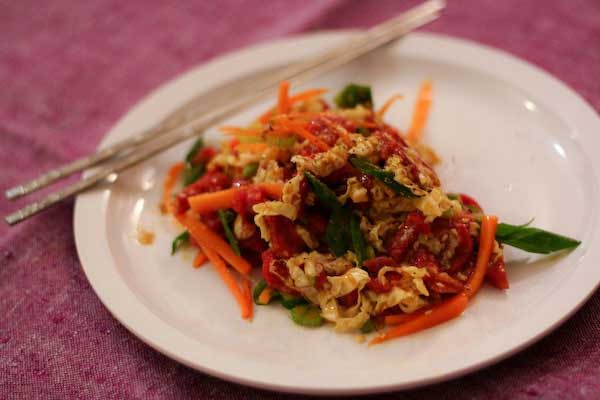 This recipe is an absolutely delicious introduction to eating raw meat. If you've ever had carpaccio or steak tartare, this Korean version known as 'Yuk Hwe' is a brilliant next step. The sesame dressing is really addictive!
Its very common to use fillet steak for carpaccio or tartare recipes – it is the softest cut of meat you can buy and has very little fat or gristle to trim away. If you are a little more brave, try and get a more worked muscle like flank steak, skirt steak or top round steak. These will be a little tougher with more fat but they have a far superior flavour.
Serves 4 as a starter
Ingredients
370 grams of flank or skirt steak, trimmed of all fat and sliced into thin strips
5 leaves of Chinese cabbage, thick trunks removed and finely shredded
1 small carrot, cut into julienne
2 spring onions, green parts cut finely on the diagonal and white parts thinly sliced
3 tbsp sesame seeds
2 normal egg yolks
extra sesame oil for drizzling
Dressing
2 cloves of garlic, finely minced
a one inch chunk of ginger, peeled and finely grated
80 ml Asian roasted sesame oil
4 tbsp soy sauce
2 tbsp Chinese sesame paste
4 tsp lime juice or cider vinegar
3 tsp caster sugar
sea salt
freshly ground black pepper
Instructions
Place the sesame seeds in a dry frying pan over low-medium heat. Toast the seeds for 4-5 minutes, shaking the pan frequently until they are golden brown and fragrant.
Combine steak, cabbage, carrot, spring onion and half the sesame seeds in a bowl. Whisk together the dressing ingredients until well blended. Crack the egg yolks over the salad ingredients and pour over the dressing. Mix well until thoroughly combined. Taste and season with salt and pepper.
Divide between 4 plates and scatter with the remaining sesame seeds and a small drizzle of sesame oil. Serve immediately.