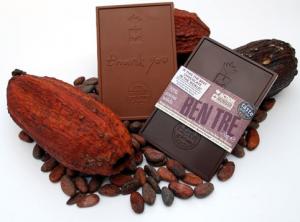 What better way to celebrate Chocolate Week then with a bar that not only tastes irresistible but also supports Action Against Hunger? I guess if the cocoa beans were supporting victims of the Vietnamese War it would be pretty cool – Oh, this bar does that too. Ben Tre's Vietnamese chocolate bar definitely has the ethical credentials – but what about taste?
Master Chocolatier Marc Demarquette was the man tasked with turning the Ben Tre plantation's Vietnamese Cocoa into a bar special enough to live up to its ethical standards. A task in which he has triumphed, with a chocolate bar that has a rich, exotic taste, and melts slowly, making it perfect for indulgent hot chocolates or cheeky cocoa hits. But don't take my word for it, the two bars have won the approval of the 2010 Great Taste Awards, getting three gold stars each!
As well as the 70% I tried, which was deliciously dark without being bitter, they've also got the milk variety, perfect for those who prefer the chocolate round their mouths as opposed to in it, if you know what I mean. Marc Demarquette puts it perfectly when he says that, "The partnership with Action Against Hunger and The Guild of Fine Food is a natural alliance of pure ethical values, highest quality chocolate and finest food". So get online for a completely guilt free Chocolate Week celebration.
Ben Tre Single Estate Vietnamese Chocolate Bars cost £3.99, £1 of which goes to support Action Against Hunger. They are available from delis, farm shops, Fortnum and Mason, as well as online.