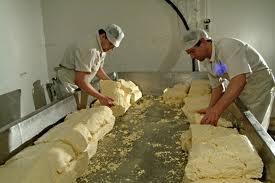 Cheddar cheese aficionados are in for a real treat because Brue Valley Farms has created a new and improved extra-mature Farmhouse Cheddar cheese exclusively for Marks & Spencer.
The new Cheddar recipe is rich and flavourful in the true farmhouse tradition, and had a strong taste with a long finish.
The cheese comes from Brue Valley Farms in Somerset, where the Clapp family have been farming since way back in the 11th Century. Made from the milk of the Clapp family's own dairy herd and created using the traditional method, the makers rely on skills that have been handed down from one generation to the next.
This new Cheddar recipe has been created especially to celebrate suppling Marks & Spencer's for the last 25 years. Apparently tis new extra-mature Farmhouse Cheddar "shows off the quality and flavour of this specialist cheese and has a slightly softer flavour than previous blends, aiming to appeal both to purists as well as those trying a stronger cheese for the first time."