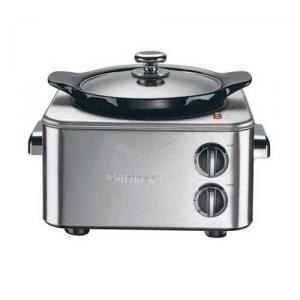 We're all being told we don't take enough time over our food. Which is ironic as the media also constantly tries to sell us an image of ourselves as frantic go-getters leading 'busy lives'.
So perhaps the slow cooker can reconcile these different directions life tugs us in? The food is ready when we come in from work so fitting in with these busy lives, yet has cooked slowly to develop real flavour. Could this be a case of having it all? Well maybe.
Slow cookers have been around a long while. Like pressure cookers they seem to go up and down in popularity as years roll by. Basically a slow cooker is an earthenware pot heated by very low current electricity. This means the energy consumption is very small, around that of an old style light bulb
The slow cooking process is perfect for breaking down the cheaper cuts of meat, which are also often the tastiest. The fats come away and can be skimmed off before serving or, better still, if you leave the cooked dish in the fridge the solidified fat can be easily removed and a day in the fridge makes stews taste even better.
And of course a slowcooker can be safely left on all day while you're out being busy. Then when you come home, the house is full of the welcoming aroma of hot food.
The slow cooker is so simple in concept there isn't much you can do to improve it, but that hasn't put Cuisinart off.
The Cuisinart CSC400U Cook and Hold Slow Cooker is better than most in a number of ways. Firstly it looks the business. The large heavy pot sits in a brushed steel effect unit, looking up to date and at home in the most modern of kitchens. It's a piece of kit you're happy to have on display. The case does get a bit hot though so it's not something you want to leave where kids can get at it.
Looks apart the Cuisinart has a couple of other innovations that make it stand out. A choice of Low or High temperature settings, which helps with mealtime planning, and a Timer. Most slow cookers simply have one temperature setting and no timer. The Cuisinart adds to the timer usefulness by having a Hold function – once the time is up the cooker reverts to a 'keep warm' setting, which maintains the food at a eatable temperature but without actually cooking it any more.
This hold function we found good and bad. Leaving the cooker to do its thing when we went to work at 8am meant the cooking was over by 4 pm but the dish remained hot, a waste of energy as we didn't actually get in until 8pm. We would have preferred the option of the device turning off completely and letting us reheat when we wanted to. However, get the timing right and it could be a very useful function.
The Cuisinart also seems to cook at quite a high temperature, even when on Low. This meant that dishes didn't always get quite the slow cooking required. After 6 hours or so most of the items in the pot were well-cooked and beginning to fall apart. On High the stew was visibly bubbling and spitting and we were reluctant to leave it unsupervised. An Auto setting, starting High and then going to Low, would be a good idea for future models.
The large round pot means it can cook for a large family, something most slow cookers can't do, and it comes with a trivet to put inside which lets you cook steamed puddings very well and even to 'oven roast' a baked potato. As any baked spud fan knows these are best done in the oven, which takes far too long, and while microwaves do a pretty good job, you don't get the lovely crunchy skin. 'Baking' them in the Cuisinart proved a good compromise.
We cooked curries and stews in the Cuisinart and all came out very well indeed. The trick, as with all slow cookers, is to use less liquid than you would in a casserole. This is because very little moisture escapes during cooking and so using less liquid gives you richer, thicker sauces.
We also put dried Borlotti beans in for 8 hours. We didn't pre-soak them overnight, something it's hard to remember to do anyway, but at the end of the cooking time the beans were plump and swollen and ready to use. IN fact slow cookers were originally known as Bean Cookers. Soups were perfectly done, the slow cooking without boiling ideal for bringing out the flavours. It also proved perfect for making proper beef and chicken stocks.
All slow cookers require you to pre brown meat, because if you don't the flavour and texture suffer. The problem is that frying meat is not something you really want be doing at breakfast time. That aside a slow cooker can be a real boon and the Cuisinart with its massive capacity and good looks is one of the best you can buy, with the internal pot smart enough to bring straight to the table.
As the evenings get darker, coming home to a hot meal cooked as if by magic is more and more attractive.
If ypu fancy fast, why not read about pressure cooking?
Curried Butternut Squash & Apple Soup
25g unsalted butter
1 medium onion, peeled and chopped
1/2 tbsp curry powder
Pinch ground ginger
900g butternut squash, cut into 2.5cm cubes
225g apples, peeled, cored and cut into wedges
25g white rice
650ml chicken stock
Salt and freshly ground pepper
Melt the butter in a frying pan. Add the onions and fry over a medium heat for 2-3 minutes, or until the vegetables begin to soften. Place in the ceramic pot.
Add the curry powder and ginger and cook for a further 5-6 minutes over a 'Low' heat until the vegetables are softened and the spices are fragrant.
Place the butternut squash, apples and rice into the ceramic pot, in the order listed.
Add the chicken stock, season well and cook on 'High' for 1 hour. Then reduce the temperature to 'Low' for 5 hours.
Puree the cooked vegetables in batches to make the smooth thick soup.
'Almost' baked potatoes
3 baking potatoes, approximately 275g each, scrubbed and dried
1 tsp good quality olive oil
Prick each potato several times with a fork. Rub each with 1/4 tsp of the oil. Place the r ack in the ceramic pot, evenly space the potatoes on the rack.
Cover and cook on 'Low' for 7 hours, until the potatoes are tender. When the Cook & Hold switches to 'Hold' the potatoes are ready to serve.
Spinach, Gruyere & Artichoke Dip
225g frozen spinach, thawed
1 x 400g cans artichoke hearts, drained and quartered
1 clove garlic, peeled and chopped
25g shallots, peeled and chopped
225g reduced-fat cream cheese, cut into 2.5cm pieces
2 tbsp evaporated fat-free milk
50g Gruyere cheese, shredded
25g Parmesan, grated
Brush a suitably sized soufflee dish lightly with olive oil or coat with cooking spray. Place the spinach in a clean,dark kitchen towel and squeeze until all liquid is removed and reserve.
Place the artichoke quarters in a kitchen towel and gently squeeze to remove excess liquid and reserve.
Place the cream cheese and evaporated milk in a large bowl and beat until creamy and smooth. Crumble the dried spinach over the cream cheese. Add the Gruyere and two thirds of the Parmesan and stir gently. Add the reserved artichoke hearts and stir gently to blend.
Transfer the mixture to the prepared dish; sprinkle with the remaining Parmesan. Place the cooking rack in the ceramic dish and place the filled soufflee dish on the rack.
Cover and cook on 'High' for 2-3 hours, until puffed and bubbly. Serve hot with crackers or sliced French bread.