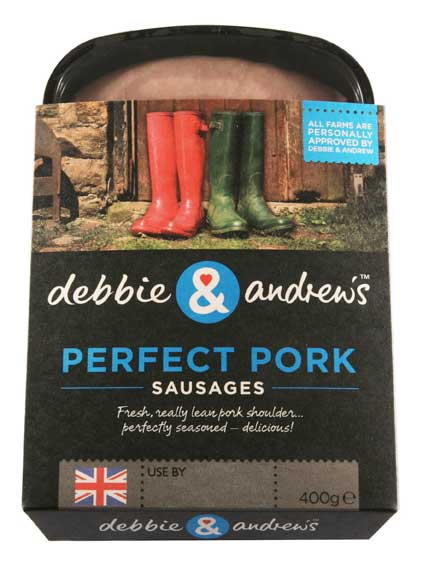 With the demise of my favourite butchers, (Meat City in Clerkenwell knocked down by developers boo hiss) the search for a decent sausage has been a hard one. I don't like to walk too far after all. Good news then that Debbie and Andrew Keeble from Yorkshire have sausages that sort the gourmets from the gourmands with the best British bangers made only with lean British pork shoulder, breadcrumbs, herbs and seasoning.
The couple's passion and ethics have grown the business from kitchen table enterprise to become one of the nation's best-loved and fast-growing sausage brands. As a British farming family, they are passionate about quality meat and creating a sustainable future for the British pig farming industry.
In the current climate when many pig farmers are going out of business (Debbie and Andrew use only British pork from a small network of named, family-run farms with direct traceability and excellent animal welfare. They use no artificial colours or flavours and still develop all recipes at home in the farmhouse kitchen. They are also the pioneers of the UK's first fair price scheme for pig farmers which they developed in 2008. Debbie too has just been awarded the prestigious Women in Farming Award for her contribution to the British agricultural industry.
They are also embarking on a new campaign this year to encourage high-welfare British veal back onto our menus through the development of a delicious boudin-blanc recipe. The sausages are currently being sampled to their customers at food shows and high profile veal supporters such as Janet Street Porter, Hugh Fearnley-Whittingstall and Masterchef's John Torode.
Find out more about their brilliant range of bangers and where to buy them at their website