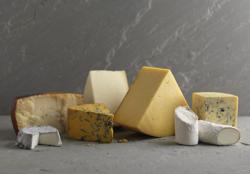 Christmas is a time for cheese. Cheesy films, cheesy cards and especially cheesy boards. I've spent hours staring in a kind of stupor at all the cheese available in local delis and in the supermarket, dithering, vacillating, hesitating and being all ambivalent. It drives the assistants crazy.
So I retreated to the interweb where I could browse and take my time. Okay I couldn't sample any morsels, but that's a small price to pay for having the space to think.
I'd heard Farmison.com were good so off their virtual farm I went. Almost 60 cheeses are on their site and a substantial portion of them are from the UK. They offer a selection of cheese boxes based around themes such as British Artisan, French Artisan, British Farmhouse and Continental Selection, all of which is ideal for people in a hurry to get to the cheese.
More fun is the online selector. First pick what biscuits you fancy, perhaps some Arran Oatcakes or Stag Water biscuits and maybe, as I did, some quince jelly which is so marvellous with cheese and not just Spanish ones either.
Drop down menus let you narrow down cheese choice by country, hard or soft, type of milk, pasteurised or unpasteurised and then you're off. We bagged some Berkswell, a Blarliath Smoked, a Blue Stilton (as it's Xmas), a large Cromarty, a Pecorino and some Ragstone. Portion size of the cheese varies with the type but it's invariably generous.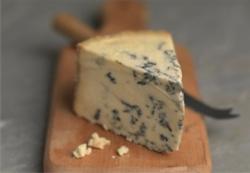 Each cheese has a pop up window which tells you more about its provenance and style and so you become rather well-informed as you drool into your keyboard. It really is a very pleasant way to cheese shop and invaluable if you're not lucky enough to live in one of the chicer postcodes where such choice is easily available.
Deliveries are normally within 48 hours, mine went round the houses a bit first but the packaging- a box made from 60% recycled cardboard – and with one of those cold block things kept it cool. And as most of our choices were hard cheeses anyway, there was no problem.
And the cheeses? Very good, a real change from the invariably European dominated supermarket section and all wrapped in waxed paper not nasty. sweaty clingfilm. Farmison seem to really care about what they do, whether it's meat, fish or cheese and are giving smaller producers a route to mass market, which can only be a good thing.
Last orders for Xmas is December 19th but there's still plenty of time to get some in for a cheesy New Year.