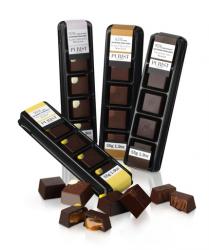 British chocolatiers Hotel Chocolat have launched a new chocolate range called The Purist Rare & Vintage. Made with some of the world's rarest and most sought after cocoa the range is all about sharing good chocolate and making it accessible to everyone.
Angus Tirlwell, CEO & Co-Founder of Hotel Chocolat is on a one man mission to bring the public the best chocolate on the planet: 'Much like grapes and fine wine, cocoa and the chocolate made from it falls into two categories – bulk or fine. Over 95% of the world supply is bulk cocoa and it makes perfectly good chocolate. However, that 5% of fine cocoa is where things get really interesting and that's where our Purist range comes in. Be it the renowned Chuao bean from Venezuela, our own Rabot Estate Trinitario or the beans from our Island Grower partners in Saint Lucia – our aim is to democratise access and awaken all experience seekers to the vivid flavours of rare and vintage chocolate. We don't believe premium chocolate should be elitist and so we want to give access to as many chocolate lovers as possible."
Two of the new products in the range include the exciting sounding Super Booster and The Sushi Pack. Alongside these are The Desk Pot as well as 70g and 35g Purist bars.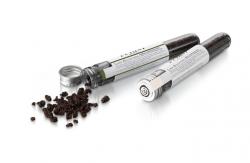 The Super Booster is a cute little test tube shaped cylinder you can carry around with you that's stuffed full of nibbly pieces of pure Saint Lucian Trinitario cocoa sealed in chocolate. It's an instant pick me up that delivers a caffeine kick to get you going again. In case you didn't know, cocoa nibs are naturally full of mood-lifting compounds, antioxidants and caffeine hence the Super Booster's ability to wake you up. Priced at £5 these baby munchies will last for ages because, quite frankly you can't really have more than a small handful at a time!
The Sushi Pack comes in 4 different recipes including Extreme Dark Pralines with a Hacienda Lara 100% shell and Caramels which have a Hacienda Lara 90% shell and an oozing liquid caramel filling. These chocolates are seriously sensuous with their dark, rich taste and I'm pretty sure that giving them to a die-hard chocoholic could well result in a 'When Harry Met Sally moment'. Sushi Packs cost £4.50 each but buy 3 or more and the cost goes down to £4.
Hotel Chocolat's products are, in my opinion some of the best on the chocolate market, whilst the fact they aren't snooty and keep their prices down makes me love them all the more!