Tracklements Special Edition Lively Lemon Pickle is a way to add quick and easy Middle Eastern
flavour to a variety of dishes. Think Lamb Tagine with Tabbouleh or Spiced Cod, Pul Biber onions and harissa
yogurt.

Massage chicken pieces with a blend of sumac, za'atar, ground allspice and a tablespoon of Lively Lemon Pickle for an effortless traybake. This flavour combo works equally well with a tray of roast veg and chickpeas.

Made with lemons , sultanas, ginger, garlic, whole mustard seeds and chillies, Lively Lemon Pickle is by no means limited to Middle Eastern cuisine.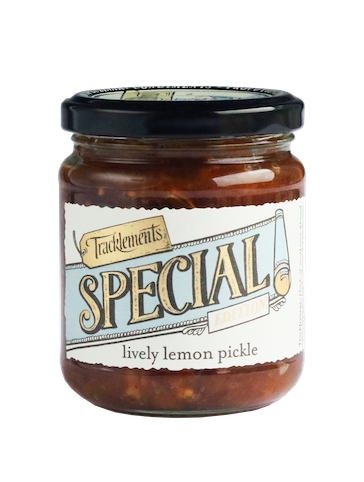 It's heritage stems from the rise of the East India Company in the early 19th century, the number of British travelling to India increased dramatically, as did the popularity of Indian-influenced pickles.
This version is inspired by a recipe written by Mrs Randell in her 1842 book titled A new System of Domestic Cookery Formed upon Principles of Economy and Adapted to the Use of Private Families by a Lady.
Vegan and Gluten Free, this pickle adds a pop of flavour to all sorts of savoury classics. Mix a few teaspoons with
butter and ease under the skin of a roast chicken, monkfish with lemon couscous is also a winner and it can be used as a marinade with ginger to pep up prawns.

The range is still handmade in Wiltshire, abiding to traditional recipes, with an underpinning principle to buy the best quality ingredients sourced locally wherever possible.

Tracklements Special Edition Lively Lemon Pickle, RRP £3.35 for 220g, is available from fine food delis and farm
shops nationwide and online at www.tracklements.co.uk.
@tracklements #tastytracklements #LifeandSoulofthePantry