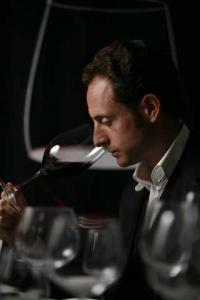 How should 'Riedel' be pronounced?
It rhymes with 'needle'.
How was your first professional visit to London?
I have fallen in love with the city which it is vibrant and warm with humorous people, a mesmerising history and crucially, a well-established wine culture.
I particularly enjoyed lunch at Tapas Brindisa and dinner at Hakkasan. In both cases it was not just the excellent food, but a bustling atmosphere which made the difference.
My father, Georg often came here to hold tastings – a tradition I shall be continuing.
How important is the UK market to Riedel?
Although my key responsibility is to our largest markets (the USA and North America), Britain is very important, being the third largest market in Europe. Austria/Germany represents our largest 'home' market and China and India are the fastest growing, particularly for the sale of Bordeaux glasses.
Über wine critic, Robert Parker Junior described your glasses as: '…the finest for both technical and hedonistic purposes…' How do they help transform our five senses of protection into pleasure?
The driving philosophy behind Riedel is that form follows function and our
glasses are designed, in collaboration with leading winemakers, to present a given wine in a way which harmonises the nose and taste, not forgetting the enhancing purity of their aesthetics and their enduring chime when struck.
Almost every major wine estate has, at some time, had a direct input into our work, from Gaja in Europe, to the Mondavi family in the USA and Penfolds in the Australias. And with spirits, Giles Hennessey helped develop our Cognac glass and Ardbeg assisted with our whisky glass.
How much of your glassware is still hand-blown?
Most of our decanters and about a fifth of our glasses. It takes several hours to craft a single glass, involving up to 25 people – bubble-makers, gatherers, blowers, masters and carriers. To become a master glass blower, our traditional apprenticeship takes seven years.
Are all of your glasses made in Austria?
Most of the hand-made production still occurs in Austria, where the overall process has changed very little since Roman times. In contrast, our machine-made crystal glasses are produced in Germany, using the latest cutting edge technology.
How many people do you employ worldwide?
2,000.
Has the market for luxury glassware shattered in the global economic
downturn?
We have performed better than average thanks to encouraging consumer sales. These account for almost three quarters of the business in the UK.
Can your glasses prevent heartburn?
Although they can't cure an acid-flux in the gullet, I believe that the right glass for the right grape can demonstrably balance acidity on the palate.
Do they assist winemakers in remedying faults?
Everything, including faults will be amplified – there is nowhere to hide in a Riedel!
How many types of glasses do you make, and which one are you most proud of?
Out of 500 lines modelled around 35 bowl shapes, my favourite is the stemless 'Riedel O' tumbler. My Eureka moment occurred when I was living in a small flat with tight storage. Another important benchmark was the 'Sommeliers Burgundy Grand Cru'. Designed back in 1958, it was our very first grape variety specific glass.
I'm about to launch a glass for 'Norton' – the official grape of the State of Missouri. This represents an exciting departure for the company, because it will be our first glass intended for a 'hybrid' rather than classic grape variety.
Does the current Champagne flute need overhauling?
Not ours, because the bestselling 'Cuvée Prestige' already offers a broader bowl to allow the nose to develop. Even Champagnes need to breathe. However many people now prefer to use an even larger bowl for Pinot Noir rich Champagnes, as provided for by our Pinot Noir glasses.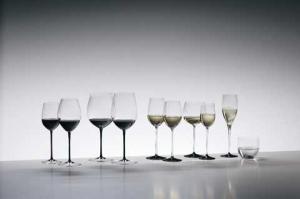 Do your glasses supersede the need for a decanter?
I strongly believe that every great wine should be decanted – and not just reds but whites and even Champagnes. The aeration will lend if a softness which mimicks the traditional ageing process. In some cases you are also splitting the wine from the sediment. But I would never advise leaving old wines in a decanter for long because the fruit will fall away. And with whites, use a small decanter so you can control the right temperature in an ice bucket or safely covered from malodorous contamination in the fridge.
Where is the oddest place you've seen Riedel glasses?
Many customers take their glasses on holiday – especially the Riedel O's. People sip from them on planes, hot air balloons and yachts and even whilst camping. Perhaps most curiously, I know of someone who has a custom-made leather pannier to carry his glasses around with him on his Harley Davidson!
Besides wine and spirits, are there other uses for your glasses?
Being multifunctional, the O's can improve almost any ambient or
cold beverage you can think of. I have noticed an
increasing trend to serve food from them too – to savour the aroma of food
as you would wine. This seems particularly popular in Michelin-starred restaurants in Japan. Perhaps the most dramatic example was truffled 'smoke' which cleared to reveal the 'dish' inside.
Will you ever design a glass for an English wine?
Never say never, although many English wines are already covered by existing styles, for example Britain's 'national grape' 'Bacchus' sings from our Sauvignon Blanc glass.
Have you ever been asked for an autograph?
Of course! We also have more than 1,000 followers on Facebook and several hundred on Twitter.
And lastly, a confession. Working as a sommelier some years ago, I'm embarrassed to admit that I accidentally knocked over a crate, fracturing 40 of your glasses…
Being in the glass business, we have to accept that, sadly, people do break
glasses from time to time (though hopefully not always 40 at a time!)
For more information about Riedel and to purchase glassware, visit their website: