Nothing beats a traditional Sunday roast but on occasion tradition can become a little boring.  That's why award-winning Indian cookery school chef, Bini Ludlow, has given the Sunday roast a bit of an Indian makeover. Warming fennel lamb and all the trimmings.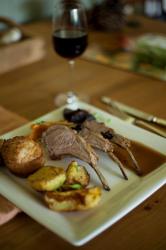 Spiced masala rack of lamb
Ingredients
Rack of lamb
1 tbsp. rapeseed oil
2 star anise
½ tsp fennel seeds
2 bay leaves
1 tsp cumin seeds
1 tsp rosemary
2 garlic cloves
Vegetable
Potatoes for roasting (enough for 4)
1 tsp mustard seeds
3 carrots, parsnips and 1 red onion
I cassia bark stick
1 tsp dried mixed herbs
2 tbsp rapeseed oil
3 tbsp water
Yorkshire pudding
75g plain flavour
1 egg
75ml milk
55ml water
Salt and pepper
½ tsp. cumin seeds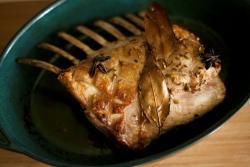 Method
Preheat the oven to 220C.
Heat the oil in a pan, add the star anises, fennel, bay, rosemary and the garlic, fry until golden brown and finally add the cumin seeds. Using tongs add the rack of lamb into the pan and turn until all sides are brown.
Transfer into a roasting tray along with all the cooking juices and cook for 20 minutes until cooked through, but pink.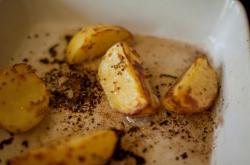 Mustard roast potatoes
Peel and quarter the potatoes and parboil for 11 minutes, drain and allow to cool.
Next, add the rapeseed oil to a baking dish and heat until hot, add the mustard seeds and allow to pop and mix in in the parboiled potatoes. Stir into the oil coating each piece, add sea salt and pop into the oven until the potatoes are golden brown (30 mins on a medium heat).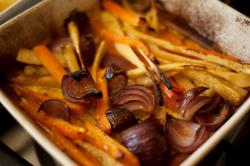 Spiced roasted vegetables
Peel, slice through the centre and cut into thirds the parsnips and carrots. Peel, cut into half and then cut the onion into quarters and add all the vegetables to a roasting dish.
Next, pop in the cassia bark, dried mixed herbs, rapeseed oil, salt and black pepper. Stirring, add 3 tbsp water and cover and cook in the oven for 45 minutes, turning half way through. Uncover for 5 minutes until the tops are brown. The parsnips and carrots should be soft and cooked through.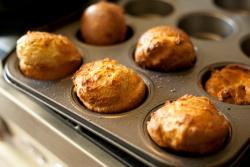 Yorkshire pudding – with roasted cumin
Combine the egg, flour, milk salt and whisk. Add 1/2tsp cumin seed to a frying pan and roast gently until they turn light brown. Grind the seeds into a pestle and mortar and then transfer into the batter mix. Next, whisk up the batter and transfer to an oiled (and hot) baking tray and add the batter mixture. Cook for 25-30 minutes until the batter rises.
Bini Ludlow is an award-winning cookery school chef. A Taste of the West gold winner and Loyd Grossman's'Food Glorious Food' runner up, visit www.sweetcumin.co.uk for more details of her Indian cookery classes, further recipes and forthcoming guest appearances.