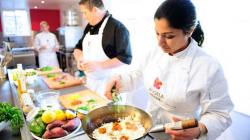 Leiths graduate, Angela Malik worked at Bidendum and Vong. Recently launched, her eponymous, Acton-based cookery school focuses on Asian cuisine via the prism of the five taste sensations – hot, sweet, salty, sour and umami.
Hands-on classes include: real Vietnamese, the perfect Indian, Thai food made easy, brilliant cocktails and canapés, a taste of Morocco, chocolate making and Dim Sum at home. Angela also offers walking tours of Chinatown.
Attached to the school, a shop and delicatessen stocks Angela's signature 'Indian pestos'.
(Serves 4)
Ingredients
30g unsalted butter
3 large apples chopped in large chunks
100g light brown sugar
1 tablespoon runny honey
½ teaspoon ground cinnamon
80g fresh or tinned lychees (drained)
150g blackberries
For the crumble
80g unsalted butter
100g plain flour
80g light brown sugar
Method
Preheat the oven to 180C/350F/gas mark 4.
Melt the butter over a high heat add the apples, sugar, honey and cinnamon. Fry the apples until golden and slightly caramelised. Add the blackberries and lychees stirring carefully. Spoon into dish or ramekins.
Rub together butter, flour and caster sugar until crumbly. Lightly sprinkle over the fruits until covered. Bake for 20 -25 minutes until golden brown.
Serve and enjoy!
6 Churchfield Road Acton London W3 6EG