Time to get involved with Carers Trust Britain's Best Breakfast
Britain's Best Breakfast is a national fundraising campaign — raising money to help support more unpaid carers and give them a break from their caring role.
Invite your friends and family to join you for breakfast and raise money for Carers Trust. Have fun, eat breakfast, and raise a (piece of) toast to carers.
Here's a great recipe bound to get the day off to a great start and find out more about helping raise money to help carers 
Kimberley Wilson's  Coconut-Crusted French Toast  with Raspberries and Mascarpone
Soft, fluffy brioche and fresh raspberries create this light yet indulgent dish, perfect for a weekend breakfast or brunch. It's surprisingly simple and easy to make too.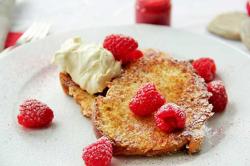 Serves 1
50 g raspberries plus extra for serving
1 egg
5 tbsp whole milk
Half tsp vanilla extract
2 thick slices of brioche or white bread
Tiny pinch of salt
4 tbsp dessicated coconut
1 tbsp caster sugar
Pinch of cinnamon
90g mascarpone
Half tsp lemon zest
2 tbsp icing sugar
Unsalted butter for frying
In a small bowl crush the raspberries with a fork. Taste and sweeten with icing sugar if necessary. Not too sweet, just enough to take the edge off. Set aside.
Beat together the egg, 3 tbsp of milk, salt and vanilla in a large shallow bowl. Dip the bread into the bowl, allowing to soak for two minutes on each side.
In a separate shallow bowl or plate mix together the coconut, caster sugar and cinnamon. Heat the butter in a large frying pan over a medium-low heat until it begins to foam but not colour. When the butter is ready gently dip the soaked bread into the coconut mixture, coating both sides evenly. Fry for 2-3 minutes on each side until caramelised and cooked through.
While the bread cooks mix together the mascarpone, remaining milk, icing sugar and lemon zest. Beat well until smooth.
Serve the toasts with the raspberry sauce, mascarpone and the remaining raspberries.