Will Torrent's Soy Blackened Mackerel with a G'NOSH Smoky Black Bean risotto
Serves 4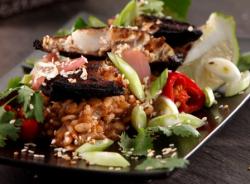 Ingredients:
For the fish:
4 fresh mackerel fillets
5 tbsp soy sauce
5 tbsp sesame oil
1 stalk lemon grass, broken in two
2 red chillies, finely shredded
15g ginger, grated
1 bunch spring onions, finely chopped
2 limes
1 big bunch coriander (stalks and leaves)
 For the risotto:
4 litres vegetable stock 
400g Arborio risotto rice 
2 banana shallots, finely chopped
1 clove garlic, finely chopped
1 tsp grated ginger
1 tbsp olive oil
1 small glass of white wine
1 pot G'NOSH Sweet Black Bean Dip
10g pickled ginger
25g sesame seeds, toasted
sesame oil, to serve
Method:
Marinade the mackerel:
Place the mackerel fillets in a bowl or tray and add the soy sauce, sesame oil, broken lemon grass, one chilli, grated ginger, half the chopped spring onions, juice of one of the limes and the coriander stalks.
Cover with cling film and leave in the fridge overnight to marinade.
Cook the risotto:
Heat the vegetable stock in a saucepan.
In a separate saucepan, add the olive oil and gently fry the banana shallots, garlic and ginger.
When the onions become translucent, add the risotto rice, and stir to coat the grains in the oil.
Add the glass of white wine and allow to reduce, stirring all the time. 
Once reduced, add a ladleful of stock and simmer, stirring again until all the liquid has been absorbed. 
Continue adding the stock in this way, until all the liquid has been absorbed and the rice is plump  and'al dente'.
Remove the risotto from the heat and stir in the G'NOSH Sweet Black Bean Dip, keep warm.
Fry the fish:
Heat a frying pan and add a touch of oil.
Add the marinated mackerel fillets and fry for about a minute on each side. The soy sauce will darken and crisp the mackerel.
Remove the pan from the heat and break up the mackerel fillets into pieces, keep warm.
Serve the dish:
Divide the G'NOSH Sweet Black Bean risotto between 4 warmed plates.
Top each with an equal amount of the broken mackerel fillets.
Finish with the remaining chilli, some picked ginger, spring onions and coriander leaves.
Sprinkle over the sesame seeds, drizzle with sesame oil and serve with a wedge of lime.
G'NOSH dips are avavilable from Ocado, Selfridges, Planet Organic and more . To find out more, visit www.gnosh.co.uk