Make Easter easy this year with this Salmon and Potato Bake recipe from www.manyfacesofpotatoes.co.uk. Ready from prep to plate in under 30 minutes, the delicious dish is sure to put a spring in your step and makes the perfect Friday fish meal.
Check out www.manyfacesfpotatoes.co.uk for a whole host of dining ideas, with recipes from celebrity chefs to home cooks keen to share their favourite potato recipes.  
What's more, manyfacesofpotatoes.co.uk is giving away a designer potato masher to the'Recipe of the Week', selected from recipes uploaded to the website that week.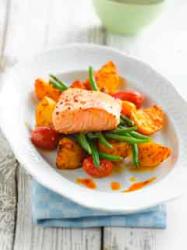 Prep time:      About 10 minutes
Cook time:     About 30 minutes               
Serves:           4
INGREDIENTS:
500g               New potatoes (salad), scrubbed and cut into 4
2tbsp              Olive oil
2tbsp              Harissa paste
100g               Fine green beans
4                      150g salmon steaks
12                   Cherry tomatoes
METHOD:
Preheat oven to Gas 6, 200ºC, 400ºF.
Place the potatoes, olive oil, harissa paste and green beans on one baking tray and combine ingredients together to coat.  Spread ingredients out into a single layer on baking tray.
Place in preheated oven for 30 minutes until tender. 
10 minutes before the end of cooking add the salmon steaks &
5 minutes before the end of cooking add the cherry tomatoes.
Serve on a bed of wilted spinach or seasonal'greens'.
*        NOT SUITABLE FOR HOME FREEZING
Parboil and Oven Bake: Prepare as above (5 minutes MW or 10 minutes parboiling). Place potatoes in bowl with 1tsp olive oil, stir until coated.  Transfer to baking sheet and bake until crispy, golden skins and tender potato about 25-30 minutes. 
*        NOT SUITABLE FOR HOME FREEZING.