Perfect for getting into the Easter spirit, these tasty recipes from Carr's Flour are sure to impress, including Simnel Muffins, Easter Egg Brownies, a Date & Hot Cross Bun Loaf and Simnel Biscuits.
Flours available to purchase from Sainsbury's, Booths, Lakeland and Williamson or from Carr's online shop for delivery straight to your door.
Easter Simnel Muffins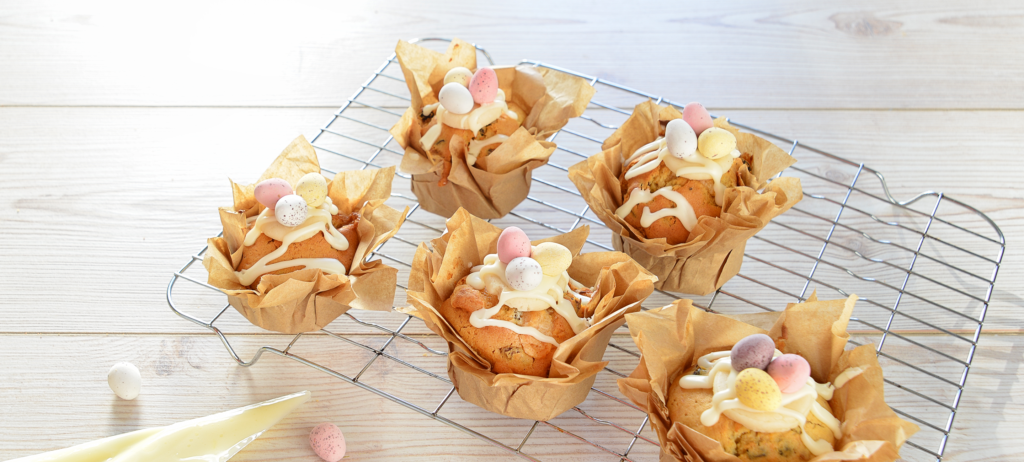 INGREDIENTS
250g Mixed Dried Fruit
1 Orange, zest and juice
175g Butter, softened
175g Golden Caster Sugar
3 Eggs, beaten
300g Carr's Self Raising Flour
1½ tsp Mixed Spice
½ tsp Nutmeg, freshly grated
5 tbsp Milk
200g Marzipan
200g Icing Sugar
1 Lemon, juice
Mini Chocolate Eggs
METHOD
1. Tip the fruit into a bowl, add the orange zest and juice and leave to soak for 1 hour.
2. Line 12 deep muffin tins with muffin cases. Preheat the oven to 180ºC/Fan 160ºC/Gas 4.
3. Beat together the butter, sugar, eggs, flour, mixed spice, nutmeg and milk until light and fluffy, then stir the fruit in well.
4. Cut 100g of marzipan into small pieces and stir into the cake mix.
5. Divide the mix evenly between the muffin cases and bake for 25-30 minutes, until risen, golden and firm to touch. Leave to cool.
6. Beat together the icing sugar and lemon juice to make icing thick enough to coat the back of a wooden spoon.
7. With the remaining marzipan, make 12 discs to fit on top of each muffin. Stick onto the top of each muffin with a little bit of icing and toast (brown off), either using a blow torch or placing under a hot grill, until golden.
8. Allow the marzipan to cool then drizzle the icing over the top, add a cluster of eggs and leave to set.
APPROX 12 1 HR 15 MINS PREP BAKE 25-30 MINS
Easter Egg Brownies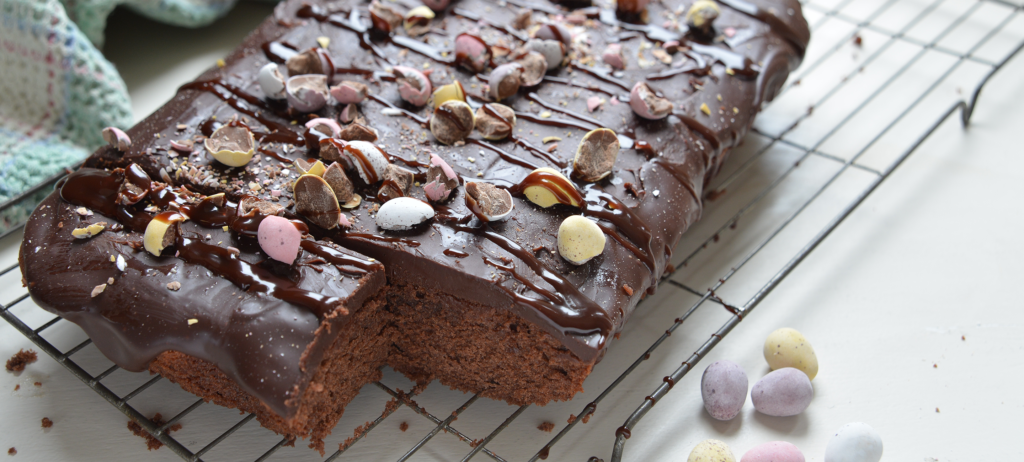 INGREDIENTS
FOR THE CAKE
250g Butter room temp
4 Eggs
250g Carr's Self Raising Flour
2 level teaspoons Baking Powder
50g Cocoa Powder
7 tablespoons boiling Water
250g Caster Sugar
2 tablespoons Milk
FOR THE ICING
125ml Double Cream
250g Chocolate
METHOD
1. Grease and line a 30cm x 20cm tray.
2. Pre heat oven to 180°
3. Cream the butter and sugar, add the eggs, then slowly add the flour and baking powder.
4. Mix the cocoa and hot water to a paste and add to the mix.
5. Loosen the cake mixture with the milk and beat until smooth.
6. Spread evenly in the tin and bake in the middle of the oven for 25 minutes.
7. Leave in the tin to cool a while then lift out.
To make the ganache icing, gently warm the cream, break the chocolate into small pieces and add to the cream to melt, stirring all the time. When thick and glossy pour over the cake and decorate with chocolate min eggs and curls of chocolate.
If your ganache goes grainy or oily, don't panic, pour off the excess oil and add some more cold cream mixing until smooth and glossy.
15 MINS PREP BAKE 25 MINS
Date & Toffee Hot Cross Loaf or Mini Hot Cross Buns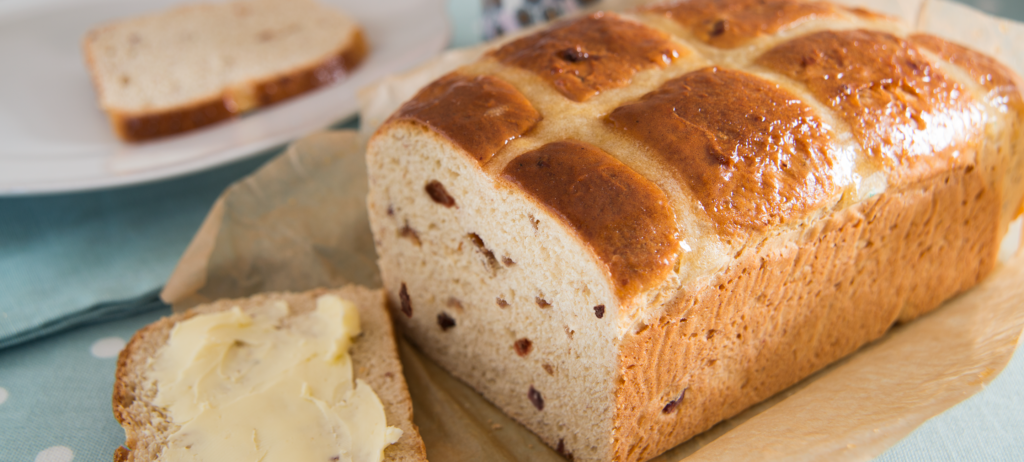 INGREDIENTS
FOR THE LOAF
1lb Carr's Plain Flour
2x7g sachets of Fast Action Dried Yeast
A level teaspoon Salt
150ml Milk
1 Egg
50g Caster Sugar
50g Butter (room temperature)
100g Dates (chopped)
50g Toffee Chunks
FOR THE CROSS
75g Carr's Plain Four
Water
FOR THE GLAZE
Apricot Jam
METHOD
1. Mini hot cross buns – perfect for little mouths! Put all the ingredients except the dates and toffee, into your bread maker following the maker's instructions and follow for raisin dough. If you don't have a nut dispenser add the dates and toffee when it beeps.
2. Take out of bread maker and form into approx 15 balls for individual buns, or shape and place into one large loaf tin, 22cm x 12cm.
3. Cover with a clean tea towel and leave to prove in a warm place until doubled in size.
4. Preheat oven to 180 ˚C (Fan 160˚C, Gas Mark 4). To make the cross mix the flour and water and pipe a cross on top of the uncooked buns or loaf. Bake for approx 40 mins.
5. To make the glaze warm the jam with some water in a pan until softened Brush the top of the buns or loaf with the glaze when they come out of the oven. Let the loaf cool slightly in the tin, before turning out.
1 LOAF 20 MINS PREP & PROVE TIME BAKE 40 MINS
Simnel Biscuits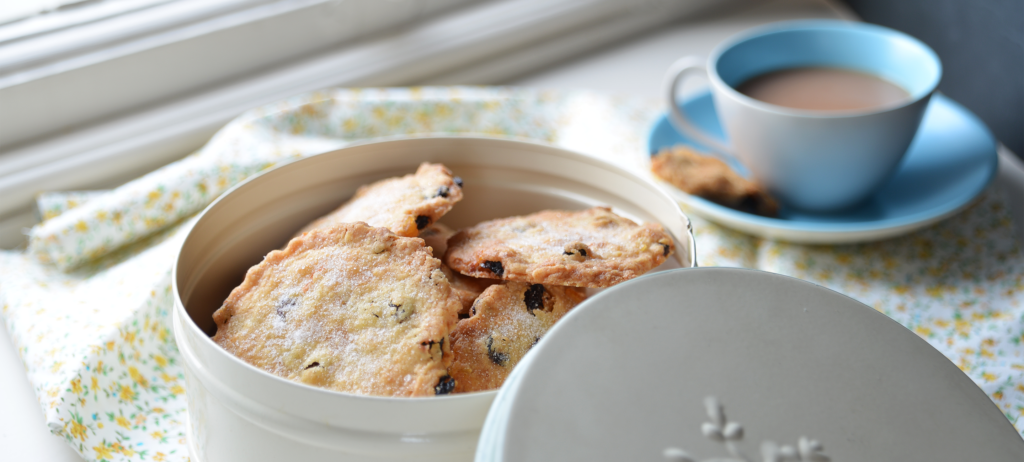 INGREDIENTS
FOR THE BISCUITS
250g Carr's Plain Flour
175g unsalted Butter
175g Caster Sugar
75g mixed Dried Fruit
Zest of an Orange
1 Egg yolk
FOR THE TOPPING
50g Caster Sugar
½ tsp Almond Essence
METHOD
1. Sift the flour into a mixing bowl, add the butter then rub in with your fingertips until it looks like breadcrumbs.

2. Stir in the sugar and your favourite mix of dried fruit or peel and cut up small plus the orange zest. Then stir in the egg yolk and combine all the ingredients.

3. Prepare a sheet of cling film on a work surface, then knead the mixture by hand to make a crumbly dough. Squeeze into a ball shape and place it on the cling film and press out to a disc shape. Wrap in film and place in the fridge to chill for 1 hour.

4. Preheat the oven to 190°C/170°C Fan/Gas 5. Line four baking sheets with greaseproof paper.

5. Roll out the dough between cling film sheets to about 3mm thick.

6. Use a 8cm fluted round cutter to create biscuit shapes and carefully place on the baking sheet about 3cm apart. You should have around 20 biscuits.

7. Bake until golden – around fifteen minutes in the oven. Cool for a few minutes on the tray, then move to a cooling rack to cool completely.

8. As the biscuits cool prepare the sugar topping by placing the ingredients in a plastic bag or container and quickly shaking to mix. When the biscuits are almost cool sprinkle on the topping to your taste.
APPROX 20 BISCUITS 30 MINS PREP
1 HOUR CHILL BAKE 15 MINS
All recipes belong to Carr's Flour, you can find out more information on their website. The full range is available to order from their online shop.